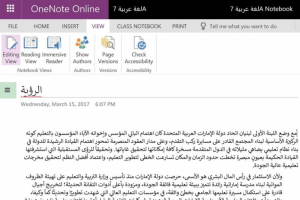 Microsoft has announced the availability of a range of Arabic learning tools for students with special needs.
The tools are now available in Word Online and OneNote Online, including text-to-speech features.
Dyslexia is estimated to impact one in five people, while 72 percent of classrooms have special education students, and 73 percent of classrooms have readers that span four or more grade levels.
These findings are what led engineering teams at Microsoft to design Office 365, and its inclusive classroom technology like Learning Tools, with accessible learning experiences in mind, the company said.
The features help skill up reading for users, including those with dyslexia, dysgraphia and ADHD, the company claims.
"At Microsoft, we understand the effort of teaching a classroom of students with different abilities, and it is challenging to find and maintain the assistive technologies that teachers need for students to succeed," said Ahmed Ameen Ashour, education director, Microsoft Gulf. "The Learning Tools in Arabic will help students with learning differences from the region to improve their reading and writing skills."
The Read Aloud feature gives audio versions of text, with simultaneous highlighting that improves decoding, fluency and comprehension while sustaining the reader's focus and attention, Microsoft says.
Spacing, meanwhile, "optimises" font spacing in a narrow column view to improve reading fluency for users who suffer from visual crowding issues.
Syllables shows the breaks between syllables to enhance word recognition and decoding, while Parts of Speech supports writing instruction and grammar comprehension by identifying verbs, nouns and adjectives.