Mubadala Development Company (Mubadala), the Dubai Future Foundation and GE Additive are uniting their collective expertise to create the first microfactory in the region.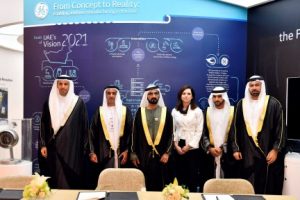 The collaboration is set to accelerate revolutionary additive design, customer innovation and digital manufacturing technologies, and provide access to global problem solving within the UAE.
The microfactory is expected to play a crucial role in the upscaling of design and manufacturing capabilities both in the UAE and the broader region, allowing for the merger of innovative and forward thinking ideas with the ability to use cutting edge additive manufacturing technology in the production of specialised components.
The microfactory is said to support UAE developments in 3D printing, and will bridge the gap to production through small batch manufacturing. In addition, it claims to enable growth in new sectors while supporting ecosystem development and customer co-creation.
Vice President and Prime Minister of the UAE and Ruler of Dubai, His Highness Sheikh Mohammed bin Rashid Al Maktoum, witnessed the signing of an MoU at the Global Manufacturing and Industrialisation Summit in Abu Dhabi.
"The leadership of the UAE is a firm believer in the exceptional opportunities presented by a proactive and future focused strategy, enabling individuals, companies, sectors and the nation to progress through the use of innovative and collaborative tools and platforms," said H.E. Al Gergawi, Minister of Cabinet Affairs in the Federal Government of the UAE and Vice Chairman and Managing Director of the Dubai Future Foundation. "These microfactories are a glimpse of what the future represents, combining innovation and educational ecosystems with fast, efficient and sustainable manufacturing capabilities. The possibilities are truly limitless."
The goal is to build both an Abu Dhabi-based microfactory focused on serving industrial companies, as well as a Dubai-based microfactory focused on serving consumer goods and services companies.
"Manufacturing across many sectors has contributed to the diversification of our economy, and a number of Mubadala's portfolio companies have made great strides in using collaboration and innovation to deepen manufacturing expertise," said Khaldoon Khalifa Al Mubarak, Group Chief Executive Officer and Managing Director at Mubadala. "This partnership with the Dubai Future Foundation and GE on these innovative micro-factories has the potential to further this expertise and enhance the country's competitive edge."
"We share a significant history of working toward projects that advance the region, and these microfactories continue that rich tradition," said Beth Comstock, Vice Chair, GE. "It will support the growth of entrepreneurs and SMEs in the digital industrial space, building a local ecosystem and community of suppliers across the key industries. GE is thrilled to partner once again in accelerating the use of this game-changing technology."