With the release of its Asha phones, Nokia said that mobile internet need not cost an arm and a leg. Of course, everyone would love to have access to all of the features and perks of a flagship smartphone, but there's no reason why cheaper phones can't do the essentials, too, the brand implied.
Thanks to the Asha series, then, mobile apps like Facebook, Twitter and email can now be used by everyone at an extremely attractive price.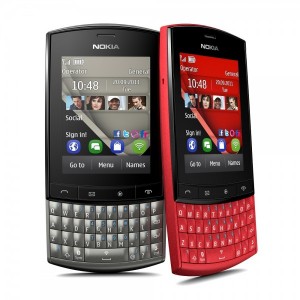 The Asha 303 sits in the middle of the range and combines a QWERTY keyboard with a touchscreen, meaning that it's easy to get to grips with for both Blackberry and touchscreen fans. Unlike the newest Nokia phones, this device still has to make do with a Symbian OS, though on first impressions, it seems a little less clunky than what's found on Nokia's last generation of smartphones. The design is clean and elegant, with a brushed metal battery cover that offers a premium feel to the entire package.
On the right hand side, there are functional controls such as the volume control keys and the lock button. Everything else is controlled with either the QWERTY keyboard or the touchscreen. Most of the clicking and selecting is easy enough to get to grips with on the screen, meaning the keyboard need only be used for typing.
Having a keyboard is really useful when dealing with an OS like Symbian, as the autocorrect function is next to useless. On this device, the keys are just about spaced out enough to type quickly and without error. And the 2.6-inch screen is just about big enough to view everything without squinting.
The 303 comes with a 1GHz processor, which is plenty to be getting on with. Some of the more power-hungry games available on Nokia's app store might take a while to load, but in terms of general use, there aren't any problems. The browser is impressively fast, and it's easy enough to scroll down up and down the screen without any hassle.
The only real problem with the 303 comes with the way in which it connects to the Internet, as it seems to connect to a 3G network whenever it can, even when it's already connected to Wi-Fi. This is annoying when signed on to a data package, as it eats up valuable megabytes. Without a data package, it'd be intolerable, as a user would have to pay through the nose for the connectivity.
The Internet issue is a pretty big oversight on Nokia's part, if it wasn't unique to our test device. That aside, the 303 is a cheap and cheerful alternative to a full-on smartphone, particularly for those who enjoy typing away on their Blackberries.