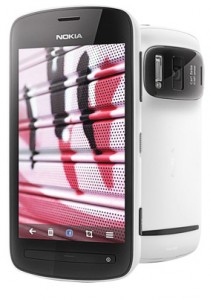 Just when you think Nokia doesn't have much to offer anymore, they bring you the phone that promises what the highest end DSLRs can't deliver, 41 Mega Pixel photos! Yes, 41 and yes, mega. Sound too good to be true? Let's find out.
I'd hate to start a review like this, but design is where this device fails on so many levels. It's heavier and bulkier than any other phone on the market. Probably even bulkier than most phones released two years ago. At almost 170 gms with a thickness of almost 14mm, you won't like how this phone feels in your pocket, if there's any good reason for someone to bring back those belt-clipped phone cases, this phone would be it – Please don't though. Just don't.
Forget weight and dimensions, the main problem we can see with this phones design, is how exposed the camera is. It bulges out of the body leaving it no chance of any protection if you end up dropping the phone. Scratching or breaking probably the only reason why you bought this phone in the first place.
Apart from that, the PureView comes in three colours, black, white and red. It fashions a 1.3 GHz ARM 11 processor that runs the Symbian based Nokia Belle OS, and comes with 512 MB RAM, 16 GB of internal storage, and support for SD cards up to 32 GB. The 4" AMOLED screen has a very disappointing resolution of 360 x 640 pixels, which counters the point of having a really high resolution camera.
The phone comes with all standard connectivity options including Bluetooth, WiFi, NFC, HDMI and a micro USB2 port.
The Camera
This is probably the only reason one would look into buying this phone in the first place, the 41 mega pixel camera with Carl Zeiss optics.
The overall photo quality was great in good photography conditions. Meaning when you have enough light and a good depth of field, the photos were very colourful and bright, and surprisingly sharp. However, they tend to get a little grainy in lower lighting conditions.
Although the 41 mega pixel photos were massive and sharp, we still didn't see the point of packing all of those pixels into a camera phone. It feels as just a slight improvement from a 12 MP camera photo; don't expect it to be almost three times as better, that's not going to happen.
Video quality was impressive with 1080p full HD at 30 frames per second, lighting conditions did again affect the quality as expected.
Software
Nokia seems to want to stick to Symbian and push it till the last minute. As it might be easier on the battery, it still feels like an outdated operating system for today's smart phone revolution. Most of the software is standard and pretty much what you'd expect from any Nokia phone released in the past few years. The photo editor comes with a few extra features but nothing jaw dropping at all.
Ratings:
 Hardware                      7/10
 Performance               6/10
 Value  for money      5/10
If you really hate carrying more than one device while travelling, if 12 mega pixel photos are just not good enough for you anymore, and you have lots of extra space in your pocket, then the Nokia PureView 808 might be just the phone for you. Just keep in mind that the camera is the only (however slight) advantage you'll get with this phone.
This review was done by Fahed Sabbagh – proud geek and passionate blogger. You can catch him wax poetic on all things geeky at www.nerdyface.com.