Omantel has announced it has signed a partnership with integrated technology solutions provider for the global hospitality industry, interTouch.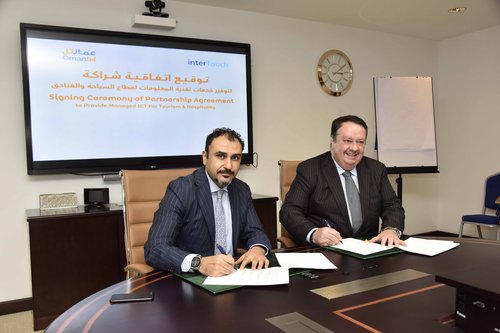 The partnership will enable interTouch to deliver "reliable and secure" connectivity, multi-media and managed network solutions for the tourism and hospitality industry in Oman.
The telco's ICT division is expanding its portfolio to include comprehensive solutions for international hotels so that they can attract tech-savvy travellers who covet data, content and connectivity at their fingertips, according to a press release.
Omantel's partnership with interTouch will ensure that value-packed IT services are made available to leading hotels, so that they focus on their core business without the hassle of IT infrastructure management issues.
"Omantel's ICT division is committed to providing ICT solutions and services to public and private sector clients across the sultanate by meeting the strategic development objectives laid out by the Sultanate," said Omantel ICT general manager, Fadi Nasser. "Tourism represents a key part of this vision and is a growing contributor to the national GDP, and Omantel remains focused on driving the tourism industry forward with technological innovation."
Matt Mitchell, chief operating officer, interTouch said, "We are excited to partner with the leading telecommunications operator in Oman to launch our solutions for the hospitality industry. Oman's tourism industry has been developing at a rapid pace, with a number of international hotel chains looking to set up here. interTouch is a global leader in the sector with over 690,000 rooms in over 103 countries under our IT management, so we are extremely pleased to bring our services to the hospitality industry in Oman through Omantel."