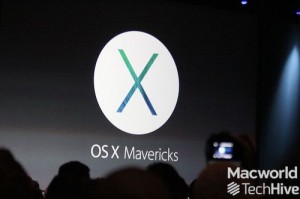 When it comes to OS X, the cat is out of the bag.
Apple senior vice president of software engineering Craig Federighi introduced the next iteration of Apple's Mac operating system on stage during Monday's Worldwide Developers Conference kick-off. Federighi began his presentation with a sly nod to OS X's past naming conventions.
"We do not want to be the first software in history to be delayed due to a dwindling supply of cats," he said. While "OS X Sea Lion" was briefly considered, Apple has instead decided to launch a new naming convention, based on inspiring places in California.
The first of these releases has been named OS X Mavericks, after the northern California surfing spot. Federighi previewed three new features present in Mavericks: Finder Tabs, Tags, and Multiple Displays. In addition, Mavericks includes a slew of under-the-hood improvements; updates to Safari, Calendar, and Notifications; new password syncing options via iCloud; and brings Maps and iBooks to the Mac.
Finder Tabs
If you use tabs in Safari, Finder Tabs will feel very similar; Apple has taken the same basic window structure, allowing you to combine multiple Finder windows into a single window with tabs along the top. You can even move files from one tab to the other by dragging and dropping.
Tags
Tags are OS X Mavericks' answer to the Labels options of yore; you can tag files that are both stored in iCloud and on your local machine. You can add tags when saving documents by selecting an already-used tag, or inventing one on the spot. After you do, tags show up in your Finder sidebar. If you want to add a tag to older documents, just drag them into the tag category in the Finder sidebar. Tags are colour-coded, and they've also been incorporated in Finder's search feature, allowing you to search by tag (or multiple tags).
Multiple displays
Federighi announced multiple displays to cheers and applause throughout the keynote hall, which he tapered somewhat by joking, "We're not giving you a free multiple display here; it's just software."
Mavericks' multiple displays improves greatly upon the lacklustre offerings found in Lion and Mountain Lion. Linen second-screen placeholders are gone, replaced with complete support for full-screen apps on screen number one and desktop display on screen number two.
In addition, OS X will provide multiple menu bars and Dock offerings for each display, draggable full screen apps, independent display support for Mission Control and Spaces, and second-screen support for AirPlay-connected HDTVs.
Under the hood improvements
After providing brief demonstrations of three major new features coming to Mavericks, Federighi briefly touched on under the hood improvements to OS X's performance and power.
Accelerated scrolling
OS X has improved scrolling across the board, offering smoother and faster acceleration inside apps. Federighi demonstrated accelerated scrolling inside both Mail's messages screen and Safari's Reading List.
App Nap
Much like iOS's app freeze, OS X's App Nap reduces power to apps when they're not in the forefront. Federighi showed this feature off during his demonstration of Safari, using a CPU monitor to show the power drop-off when switching out of the program into iTunes.
Compressed memory
Compressed memory takes your inactive memory and compresses it to make free space available quickly. According to Federighi, users may see up to 1.4-times speed improvements on an SSD from this feature.
Available later this year
OS X Mavericks will be available "this fall", according to Federighi; developers can pick up a preview from Apple's developer portal today.