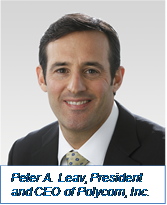 Polycom today announced that Peter A. Leav has joined the company as President and Chief Executive Officer, and will also serve as a Director on Polycom's Board.
The former NCR and Motorola Executive succeeds interim CEO Kevin Parker, who will continue serving as Chairman of the Board of Polycom, and will work closely with Leav on a transition plan.
"Polycom is a proven innovator and leading provider of secure, interoperable collaboration solutions to enterprises, from voice to video to content sharing," Leav said. "The future opportunity is unlimited as most organisations across the world are just beginning to discover the amazing benefits Polycom collaboration solutions can bring to them.
"Providing the industry's best end-to-end customer experience, while improving operating margin and driving long-term shareholder value, will be top priorities for me and for our Company. I am very excited to work with our team as we enhance our strategy, drive results and continue our innovation leadership in this evolving industry."
During Leav's tenure at NCR, revenues grew from $4.6 billion in 2009 to $5.7 billion in 2012. In his most recent role at NCR, Leav was Executive Vice President and President of Industry and Field Operations.
He was responsible for leading a team of approximately 8,000 employees across 120 countries.
He led NCR's global go-to-market efforts, including the NCR Global Sales organisation's direct and indirect sales channels, Professional Services, and Industry Lines of Business, focusing on customers in the Financial Services, Retail, Hospitality, Travel and Technology and Telecom industries.