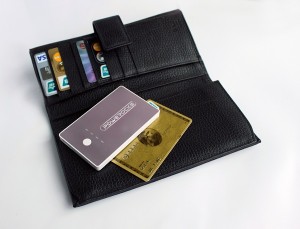 Powerocks last weekend announced the Tarot, which it claimed is the world's thinnest portable power bank.
The device, which can be used to provide emergency charging for smartphones and tablets, was designed to fit into a wallet, pocket or small purse. About the same size as a credit card, only thicker, it weighs 50.75 grams. In terms of its dimensions, the Tarot is 8.9 centimetres in length, 5.3 centimetres in width, and 0.7 centimetres in height.
The Tarot has a power capacity of 1,500 mAh, meaning it will provide most smartphones with about a 75-percent charge. Powerocks said that the Tarot can also charge Bluetooth headsets, cameras and GPS devices, among other things.
The Tarot is available in black, silver or pink, Powerocks said. It is available now in the United States, though there is no word yet on when it will be available in the Middle East.