Dubai, UAE, August 10th, 2021: realme, the world's fastest-growing smartphone brand, launches MagDart, the first magnetic wireless charging solution for Android. The solution includes the world's fastest 50W magnetic wireless charger, realme Flash, the first Android smartphone that supports magnetic wireless charging, and several other magnetic charging accessories. realme aims to be a pioneer in the magnetic wireless charging ecosystem.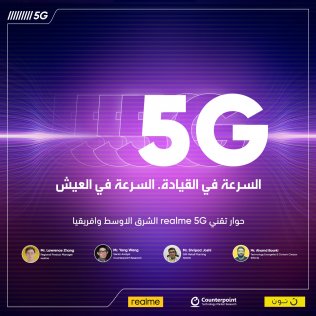 realme Flash, the first Android smartphone that supports magnetic wireless charging
realme first concept phone, realme Flash, features a 4500mAh battery capacity and can support up to 50W of MagDart wireless charging, which can charge the battery from 0 to 100% in less than an hour, nearly the same as realme 50W SuperDart wired charger.
50W MagDart Charger, world's fastest magnetic wireless charger
The 50W MagDart charger features an active air cooling system that keeps the mainboard and coil temperatures at a reasonable level with a compact and powerful fan that can quickly remove heat by drawing a large airflow into the charger so that it can maintain the charging power at a high level for a longer time.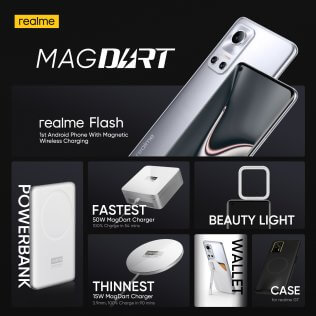 15W MagDart Charger, the thinnest magnetic wireless charger
The 15W MagDart Charger is only 3.9mm, 26.4% thinner than the MagSafe Charger, but it is still faster than MagSafe due to its Separated Coil & Board design. It sets the mainboard and the coil at the two ends of the charging plug and the charging pad respectively, thus making the charging pad thin with only one charging coil. And it separates these two sources of heat generation, thus reducing the heat generation situation and thus providing longer high power charging hours, which can charge the 4500mAh battery from 0 to 100% in 90 mins, much faster than rival products.
Right after the global launch, realme MENA has held one 5G online webinar inviting Counterpoint Research – one of the most famous tech research agency, Noon – the top tier e-commerce company and @slorks – one of the most popular local tech content creator to discuss 5G development in MENA and to talk about the ambitions of realme on 5G.
The 5G webinar brought together leaders from industry association, research institution, top tech blogger and device manufacturer to share their insights on several 5G topics: current global 5G connectivity – the driving forces behind it and the technical aspect to 5G evolution; the unique relationship between 5G and the younger generation; and how to further facilitate 5G accessibility in the future.
"We are fighting to let 100M young users to enjoy life with 5G devices", from Sky – realme's CEO.
To let more users experience 5G, realme has made a lot efforts on all aspects. Such as realme GT 5G and realme 8 5G, they are the best value smartphones among each segment. If you look back to last year, you could never image 5G device could be affordable for every single user.
"To be 5G Populariser" will be the major direction for realme from now on not only in MENA also around the world.
"Noon will work closely with the brand like realme to further improve user experience, especially for 5G, as one of the most popular e-commerce platforms, we will also fight for pushing 5G era forward", said by Mr. Shripad, GM of Retail Planning from Noon.
Other than that, during the webinar, Mr. Ahmad Boarki – well known as @slorks on social media channels as one of top tier tech content creators in GCC, has shared his idea about 5G device selection: "If the specs of 5G device is similar to or even better than the one with 4G in same segment, even for those regions without 5G network such as North Africa and Levant, why don't you choose one 5G phone with better specs and reasonable price other than a 4G phone?"
To sum up, realme will keep going along the path by working with all the partners in MENA, to achieve the target – "To make 5G accessible to all".
realme has always been bringing leap-forward technology to global young users. MagDart and 5G will bring the industry to a brand-new era.