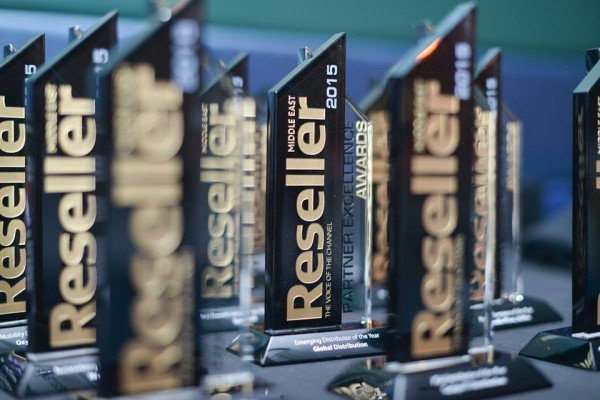 At its sixth annual Partner Excellence Awards 2015, Reseller Middle East, bestowed its highest honour upon the best performing companies from the regional IT channel community. Held on June 3rd, at Jumeirah Beach Hotel, the awards commended channel players who have strived to grow their business through differentiation and innovation.
The evening kicked off with CPI Media Group's Chairman, Dominic De Sousa's welcome speech where he encouraged the industry to "raise the bar even when it seems impossible."
Presenting sponsor for the event, Octagon International's Managing Director, Sukant Mishra emphasised the significance of evolving with the times and embracing technology to enable business. Hazem Amer, Market Development Manager, Gulf Region from Platinum sponsor, Intel, gave the second keynote address for the evening. He said, "Exciting times are ahead of us, if technology was a movie, we are only seeing the trailer now."
The winners ranged across several categories including vendors, distributors, resellers, SIs, retailers, readers' choice and editors' choice. Besides the awards ceremony itself, the 400-plus attendees were treated to a host of entertainment programmes, all of which blended in perfectly with the theme for the event – Brazilian Carnival. Reseller Middle East also gave away spot prizes for the best themed dressed male and female.
The most prestigious category of the evening, Best Partner Excellence Programme, from a distributor and a vendor was awarded to Mindware and SAP respectively.
Reseller Middle East also presented awards to Bahaa Salah, Aptec – an Ingram Micro Company for Outstanding Executive of the year from the IT channel while Aaron White, Hitachi Data Systems won the category from the vendors. Tanya Lobo from Avaya was honoured with the Woman Executive of the year trophy.
Check out #RMEawards on twitter for a recap of the noteworthy evening. Click here to view the photos from the event.
The full length of winners were as follows:
 Vendor categories
Networking Vendor of the Year – Cisco
Software Vendor of the Year – Microsoft Gulf
Mobility Vendor of the Year – Quantum
Security Vendor of the Year of the Year – RSA
Peripherals and Accessories Vendor of the Year – Xerox Corporation
Systems & Hardware Vendor of the Year – Dell
 Reseller/SI/Retailer categories
Super Retailer of the Year – Jacky's Retail
Systems Integrator of the Year – Help AG
Enterprise Reseller of the Year – MDS UAE
SMB & Consumer Reseller of the Year – Accent Office Supplies
Distributor categories
Volume Distributor of the Year – Redington Gulf
Networking Distributor of the Year – Westcon Group
Mobility Distributor of the Year – Oxygen Middle East
Security Distributor of the Year – ComGuard
Specialised Distributor of the Year – StorIT Distribution
Value-added Distributor of the Year – Aptec – an Ingram Micro company
KSA Distributor of the Year – Sariya IT Distribution
Emerging Distributor of the Year – Global Distribution
Readers' Choice categories
Readers' Choice Vendor of the Year – HP
Readers' Choice Distributor of the Year – Logicom
Editors' Choice categories
Outstanding Executive of the Year- IT channel – Bahaa Salah, Aptec – an Ingram Micro Company
Outstanding Executive of the Year- Vendor – Aaron White, Hitachi Data Systems
Woman Executive of the Year – Tanya Lobo, Avaya
Best Product Innovation of the Year – Prestigio Middle East
Best Growth Initiative by a Vendor – D-Link Middle East & Africa
Best Growth Initiative by a Distributor – Spectrami
Best Partner Excellence Programme of the Year – Mindware
Best Partner Excellence Programme of the Year – SAP