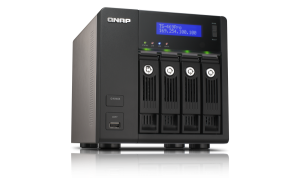 Qnap's newly launched X69 Series of network attached storage is targeted at power consumers and business users. Powered by Intel's dual-core Atom processors, this device has enough power to do anything you expect from a NAS and some more.
Qnap provided us with a four-bay TS-469L to review, which comes with four hard drives. We decided to run it in RAID 5 mode.
First Impression                                                       
The design and build quality of Qnap is top-notch, it's all steel and high-quality plastic, making it a sturdy unit.  The power supply is built in, so you can plug in any standard computer power cord, and, of course, all the accessories you need come with the package.
Installation and Configuration
Since Qnap comes with its OS preinstalled on RAM, the initial installation is as easy as anything. Just plug it in your network, run Qnap finder on any PC and the GUI wizard takes you through each step. Ours installed under 10 minutes, though RAID building, as with any other NAS, takes a longer amount of time. Eager to see what else the unit could do, we didn't wait for the RAID building to finish before we began playing with device.
OS and Features
We were impressed by the features that the Qnap offers in the stock firmware. There are dozens of QPKGs available to download that add plenty of functionality.  Power users will appreciate the SSH access, so they can further tweak their machine if required.  For average users, the GUI interface can be used to do pretty much anything.
HD Station
You can hook up your Qnap to a TV via HDMI slot, and browse the internet, view YouTube or the videos stored in your NAS box on the TV, making it a sort of all-in-one media centre on top of its existing functions. You can use any MCE remote control or Qnap remote to control the device, and there's also an iOS app called Qremote available. Qnap says that an Android app will be available soon.
The HD station feature is reasonably impressive, turning your TV into a smart TV instantly, though the lack of an Android-based remote control does limit the user base – not every has an iPhone, after all.
Overall Score
With a retail price of Dh3,500, this little Qnap certainly provides plenty of bang for your buck, particularly in terms of the design and build quality. RAID building may take a while, but apart from that, this is a great little unit that should sell reasonably well.