Robotic teaching assistants are being deployed into autism centres in the UAE to help children learn faster and better. The first such robot, provided by ATLAB, a technology-based learning solutions company, is in use at the Umm Al Quwain Autism Centre.
The robot has been helping teachers and interacting with autistic kids at the centre. "Robotic teaching assistants are changing the way the kids are taught. It enables children to be more interactive when compared to a human teacher. It is even more true with an autistic child," said Nilesh Korgaonkar, General Manager, ATLAB.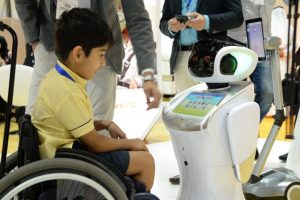 The deployment of the ATLAB Teach Asist at the Umm Al Quwain Autism Centre was an initiative of the UAE Ministry of Community Development.
ATLAB Teach Assist was initially unveiled during Global Education Supplies and Solutions (GESS) Dubai 2017. The first such robot was deployed into a school in Sharjah last year.
"The first edition of the Teach Asist robots were deployed in some schools as a pilot project. The results were really encouraging. The schools as well as the students loved it a lot," said Korgaonkar.
The second edition of the software is now fully ready to be rolled out into schools and have been upgraded with the latest, advanced software upgrades.
"The Teach Assist now allows teachers to customise their lesson plans. Additional sensors allow it to distinguish humans in a more intelligent manner, and the face recognition software has received a significant boost compared to the previous version," said Korgaonkar.
Additionally, the latest software upgrade also enables the ATLAB Teach Assist to educate school kids about coding.
ATLAB in co-ordination with LEGO Education has been developing STEM Academies in the UAE and integrating it with the curriculum to enable more hands-on learning.
The recent 3D printing Olympiad in the UAE saw participants showcase innovative self-designed models including a functional 3D printed humanoid robot.
"At ATLAB our aim is to promote innovation among students. It is important to train our kids to be more creative and innovative and the STEM Academies precisely aim to do this," said Sanjay Raghunath, Chairman and Managing Director of Centena Group, that owns ATLAB.
The Teach Assist robot will be on display at the ATLAB Stand B10, Sheikh Saeed Hall at GESS Dubai 2018 and will do a live demonstration of its teaching abilities.