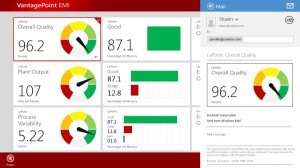 Rockwell Automation has announced the release of a new FactoryTalk VantagePoint Mobile App made to work natively for Windows 8.1.
The app will be available in December in the Windows Store.
The app offers a native Windows 8.1 experience where users can access FactoryTalk VantagePoint centralised reporting and analytics from the Rockwell Software FactoryTalk software suite.
Within the app, users can view key performance indicators such as energy usage, operational equipment effectiveness, or mean time between failure/to repair.
Users can also pin a KPI to a live tile so the metric is always visible from the Windows 8.1 start screen.
Users can send KPI information to co-workers by simply swiping to bring up the Windows share charm. The selected KPI is then ready to send to anyone in their contact list.
"The true value of FactoryTalk VantagePoint software goes beyond offering a view into production data, it enables users to make faster, better decisions," said Pankaj Shrivastava, Business Leader, Architecture & Software, Middle East, Rockwell Automation Europe. "Extending its mobile reach with a Windows 8.1 app drives further collaboration and innovation among users working via mobile phones and tablets, turning plant-floor data into a powerful tool, usable from any location."
Microsoft is a strategic alliance partner within the Rockwell Automation PartnerNetwork program. The two companies have worked on the integration of FactoryTalk VantagePoint with SharePoint, Excel, SQL Server Reporting Services and more.