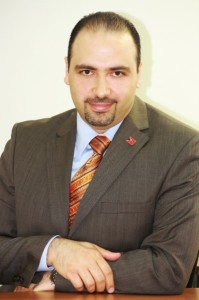 To a large number of organisations, Ethernet fabrics remain a poorly understood concept rather than a platform for innovation, says Samer Ismair, MEMA Network Consultant, Brocade Communications
Growth in data centre investments driven by the increasing popularity and need for 10 Gigabit and 40 Gigabit ethernet networks recently led to record sales of enternet switches in the Middle East.
According to IDC, during Q3 2013, Ethernet switch sales in the Middle East and Africa region saw an almost 23 percent year-on-year increase – way above the global average which was a healthy 6.5 percent. This is encouraging news, but to a large number of organisations, ethernet fabrics remain a poorly understood concept rather than a platform for innovation.
Client-server apps, web services, unified communications, virtual machines and the backup of traffic in virtualised storage environments are just a few of the many applications that rely on the smooth  functioning of the data centre network. Private and hybrid cloud infrastructures too are making powerful and scalable networks essential. And with software-defined networking set to move from concept to deployment, a new set of challenges await network operators.
The traditional network has been stretched to its limits and can no longer offer companies performance, availability, security and the mobility they require. Today's tools for system management and orchestration are complex and need to be tailored to a large extent on the individual needs of a company. Because of this, they are expensive and difficult to use. Overcoming these challenges requires the underlying infrastructure to be changed and focus must now move from the management of 'physical ports' to the management of 'flows'. The network must be simple to set up, operate and above all, it must be scalable, flexible, robust and capable of managing virtual machines.
Ethernet Fabrics- an essential network evolution
Some of the most demanding communication service providers in the world are already using a different approach. They control their networks with Ethernet fabrics. For organisations looking for greater flexibility in their data centres, fabrics network topology is essential. Compared to classic hierarchical Ethernet architectures, Ethernet fabrics provide higher levels of performance, utilisation, availability, and simplicity. It is easy to make a case for the deployment of Ethernet fabrics as they offer a host of benefits.
Virtualisation is Simplified
Standard Ethernet switching requires the configuration of all switch ports which becomes complex and problematic with more and more virtual machines being added per switch port. Furthermore, if for load balancing, maintenance or disaster recovery, a virtual machine must be moved between physical servers, all ports need to be reconfigured. Ethernet fabrics on the other hand permit the sharing of common configuration information between switches so no manual intervention is necessary. The shortest route is automatically selected due to multipath routing and this decreases the latency.
Connectivity Increases
In traditional Ethernet networks running Spanning Tree Protocol, only 50 percent of the links are active while the rest act as backups in case the primary connection fails. Ethernet fabrics provide active always-on connectivity, an ideal basis for a Software-Defined Network. Although fabrics work internally without STP, they manage to work with existing Ethernet networks and use STP instead of a "self – aggregation" of ISL connections between the connected ethernet fabric switches. Ethernet fabrics are self-monitoring and vendors now offer functionality for tracking health at the switch component level. In the event of an outage, links can be added or modified quickly and non-disruptively. This self-healing fabric approach doubles the utilisation of the entire network while improving resilience. It also allows IT architects to confidently increase the size of their Ethernet networks, which helps make Virtual Machine mobility much more feasible.
Management is Easier
In normal multi-tier architectures, the network and its intersection with other domains is difficult to manage. The access layer typically consists of various switching stages, ranging from a software switch in the hypervisor (a softswitch) to top -of-rack , mid-of-row and end-of-row switches. Every time a new server rack virtual machine is hosted, each switching layer has to be reconfigured, with correspondingly greater cost and complexity. Things are made more difficult as Local Area Networks, Storage Area Networks and blade servers, network interface cards and Host Bus Adapters have their own tools for the management of connectivity .
Ethernet fabrics simplify the management of multiple switch planes. They enable application of policies and management of traffic across many physical switches as if they are just one switch. Ethernet fabrics provide the administrators of servers, networking and storage a unified view of the network status. When a switch is added, it automatically joins a logical chassis, similar to adding a port card to a chassis switch. This simplifies management, monitoring, and operations, since policy and security configuration parameters are automatically inherited by the new switch.
Business Benefits
Traditional Ethernet with its restrictions raises not only technical challenges but hampers business productivity as well. There are many situations in which IT becomes unable to respond quickly enough to new requirements. With ethernet fabrics, implementing new requirements is far easier. Not only this, ethernet fabrics reduce costs. Less redundancy in the network means greater efficiency and less pressure to invest. Even automation increases thus reducing operational expenses.
The industry wide trend towards ethernet fabric adoption is clear. In its 'Channel 2020' survey released in November 2013, Brocade revealed that over 60 percent of organisations see Ethernet fabric technologies as the future of data centre networks. In the era of ever-increasing traffic volumes, the network is proving to be critical to innovation and business success. Ethernet fabrics are the future and early adopters will stand to gain a decisive head start.