Salesforce has announced the launch of myEinstein – a powerful machine learning platform services that enable admins and developers of all skill levels to build custom AI-powered apps across Salesforce "with clicks, not code."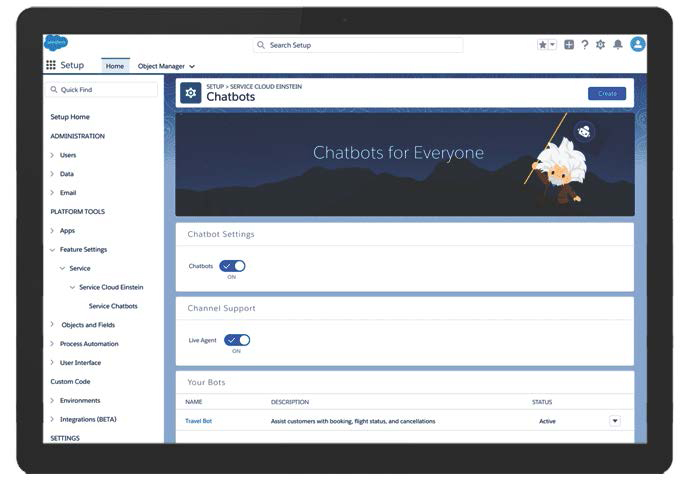 Now every Trailblazer – those using Salesforce to "drive innovation, transform their companies and grow their careers" – are armed with the tools they need to deliver smarter and more personalised customer experiences.
myEinstein includes two new services: Einstein Prediction Builder, which allows customers to automatically create custom AI models that can predict outcomes for any field or object in Salesforce; and Einstein Bots, which can be trained to augment customer service workflows by automating tasks such as answering questions and retrieving information.
"Salesforce reimagined AI, bringing it out of the lab and into the hands of business users with Salesforce Einstein, which now generates more than 475 million predictions every day," said John Ball, GM and SVP, Salesforce Einstein. "Today, we are further democratising AI by empowering admins and developers to transform every process and customer interaction to be more intelligent with myEinstein. No other company is arming customers with both pre-built AI apps for CRM and the ability to build and customise their own with just clicks."
Here's how myEinstein works. The declarative setup guide walks users through building, training and deploying AI models using structured and unstructured Salesforce data. myEinstein automates the model building and data scoring process and custom predictive models and bots can be embedded directly into Salesforce workflows. Models and bots automatically learn and improve as they're used, delivering accurate, personalised recommendations and predictions in the context of business.
Earlier this year, Salesforce announced the launch of Einstein AI and Analytics for Field Service Lightning, empowering companies to deliver a smarter onsite customer experience. Field Service Lightning arms mobile workers with the insights and intelligence they need to increase productivity, boost onsite efficiency and drive revenue.