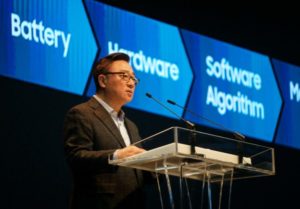 Following several months of investigations, Samsung Electronics today announced the cause of the Note7 incidents as two separate lithium-ion battery faults, as well as explaining measures to prevent a recurrence during a press conference held in Seoul, Korea.
Over 2.5 million devices were recalled in September after thousands of them around the world inexplicably caught fire. Airlines and public transportation systems around have gone on to ban their usage.
It has now been revealed that the casing of the original battery was too small, causing it to short-circuit and ignite. It was replaced with a battery that had a different manufacturing defect but led to the same result.
Based on what the company learned from the investigation, Samsung says it has implemented a range of internal quality and safety processes to enhance product safety including additional protocols such as the multi-layer safety measures and 8-Point Battery Safety Check.
The company has also formed a battery advisory group of external advisers, academic and research experts, including professors from the world's top universities.
DJ Koh, president of Samsung Electronics' mobile communications business, apologised and expressed gratitude to customers, mobile operators, retail and distribution partners and business partners for their patience and continued support.
Koh said, "Today, more than ever, we are committed to earning the trust of our customers through innovation that redefines what is possible in safety, and as a gateway to unlimited possibilities and incredible new experiences."