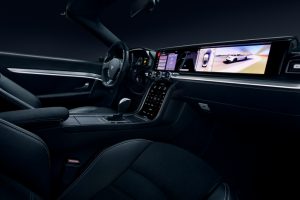 At CES 2018, Samsung Electronics has introduced the first set of connected car solutions developed with Harman International, which it acquired a year ago.
At the annual trade show taking place in Las Vegas, Samsung has launched an automotive camera system packed with features such as collision warning, lane-departure warning, and adaptive cruise control, developed together with Harman, according to a report in Reuters.
Over the last few years, several car manufacturers are increasingly focusing on autonomous features to compete in the driverless cars segment.
Early last year, the company closed a $8 billion acquisition deal with Harman, a global manufacturer of connected products for automakers, consumers and enterprises.
The company aims to begin shipping the camera system built on machine learning and augmented reality during this year, said the report.
Samsung also introduced a digital cockpit platform, which includes a suite of "flexible and scalable premium experiences that support today's connected lifestyles without compromising safety or performance."
Available in standard and advanced system configurations, the platform can integrate the instrument cluster with centre console via voice, haptic feedback, and physical knobs and steering wheel controls in a single, centre screen for all vital vehicle information and features.
"Together with Samsung, we have increased innovation speed through scale, resources and competencies to help automakers focus on the car's evolution from device-centric to experience centric," said Dinesh Paliwal, Harman president and CEO. "Harman has the heritage and expertise in automotive, and collectively Harman and Samsung harness our best technologies and global scale to accelerate how we better serve the needs of automakers in this rapidly evolving automotive market."
The firm also unveiled its new Samsung DRVLINE platform, positioning itself as the go-to partner for Original Equipment Manufacturers (OEM) and Mobility-as-a-Service (MaaS) providers in the autonomous driving market. The DRVLINE platform is an open, modular, and scalable hardware and software-based platform. According to the company, it is a "valuable solution for automakers because it can integrate best-in-class technology into new vehicles, while also building a foundation for fleets of the future."