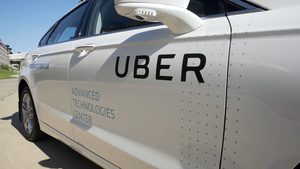 Uber Technologies has decided to purchase 24,000 sport utility vehicles from Volvo Cars to create a fleet of driverless autos, reaffirming the firm's commitment to autonomous cars under the leadership of its new CEO Dara Khosrowshahi, reported Bloomberg.
As per a statement from Volvo, the XC90s, priced from $46,900 at U.S. dealers, will be delivered from 2019 to 2021 in the first commercial purchase by a ride-hailing provider. Uber will add its own sensors and software to permit pilot-less driving.
According to the report, Uber's purchase boosts efforts to substitute human drivers, which is the major cost in its on-demand taxi service.
The autonomous fleet is small compared with the more than 2 million people who drive for Uber but reflects dedication to the company's strategy of developing self-driving cars.
Last year, Uber had agreed to use 100 XC90s for self-driving tests in Pittsburgh and made a deal to include autonomous vehicles from Daimler AG's Mercedes-Benz in its network at some point. However, according to media reports, the status of the project was unclear post Alphabet's driverless car division Waymo sued Uber this year, claiming the ride-hailing company stole trade secrets, and the US Justice Department opened an inquiry into the matter.
Uber has said it didn't use stolen information, Bloomberg reported. Shortly before taking over as CEO in September, Khosrowshahi said Uber must focus on the core business, which raised questions about the costly self-driving programme.
Jeff Miller, Uber's head of auto alliances, told Bloomberg News, "This new agreement puts us on a path toward mass-produced, self-driving vehicles at scale. The more people working on the problem, we'll get there faster and with better, safer, more reliable systems."
Bloomberg added that Volvo engineers have been working closely with Uber to develop a base vehicle with core driverless technology that the ride-hailing company can then augment. Volvo plans to use those cars for its own future offering.
"The automotive industry is being disrupted by technology and Volvo Cars chooses to be an active part of that disruption," the firm's chief executive officer Hakan Samuelsson said. "It's a new market that's emerging and we're the first to be delivering into that segment."
Not revealing the time frame as to when the market can expect driverless rides, Uber said its approach means anyone in the industry can "deploy its tech", said Bloomberg. There report also added that people using hand signals and eye contact to negotiate traffic is one of the major challenges remaining for autonomous autos, according to Uber.
The UAE's The Roads and Transport Authority (RTA) has also been looking into driverless transport system and expects to have a trial in 2018. Related news can be found here and here.