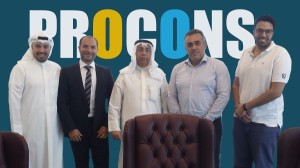 ProCons, the accredited SAP gold partner and master VAR for SAP Business One, has signed a joint venture with Al-Awama Group of Companies– a large Kuwaiti Group involved in a spectrum of business activities such as electro-mechanical works, catering services, telecommunications, education and travel and tourism.
The joint venture comes during the company's aggressive expansion plans and growth of the services sector in Kuwait.
Ibrahim Al Ghanim, CEO, Al-Awama Group said, "The services sector is highly dependent on the IT platforms and infrastructure that we acquire in Kuwait. The service industry is a large and growing source of jobs across the country and our strength in the area will play an important role in economic and social development. Our joint venture with ProCons will establish highly productive sector generating benefits for many industries, and this in return will provide services that power inclusive growth."
He added, "We are very pleased to have agreed terms and established this joint venture with ProCons. The company is one of the most reputable in its industry and has clear benefits for our investment portfolio. We welcome our new partners and look forward to a long and successful business relationship."
Wassim Hassanieh, Managing Director of ProCons said, "Kuwait is very strategic for us; it took us sometime to find the right partner which shares the same values, but now we are very glad to partner with Al-Awama." He added: "Using our industry expertise, technological capabilities and SAP software, we will help move any business entity in Kuwait from one level to another."
Hassanieh added, "ProCons strong network and partners is all what Al-Awama needs to significantly improve their performance by brining greater competition and better technologies to any services sector in Kuwait."
As SAP's gold partner with more than 10 years of business project experience, the reseller said it is committed to developing innovations that improve the lives of people everywhere.
Over the last few years, ProCons has built a strong network of channel partners and resellers across the Middle East and Africa. Established in Dubai in 2005 with offices in UAE, KSA, Lebanon, Qatar, Kuwait and Turkey the company provides professional SAP consultancy and expertise to businesses within the MENA region.