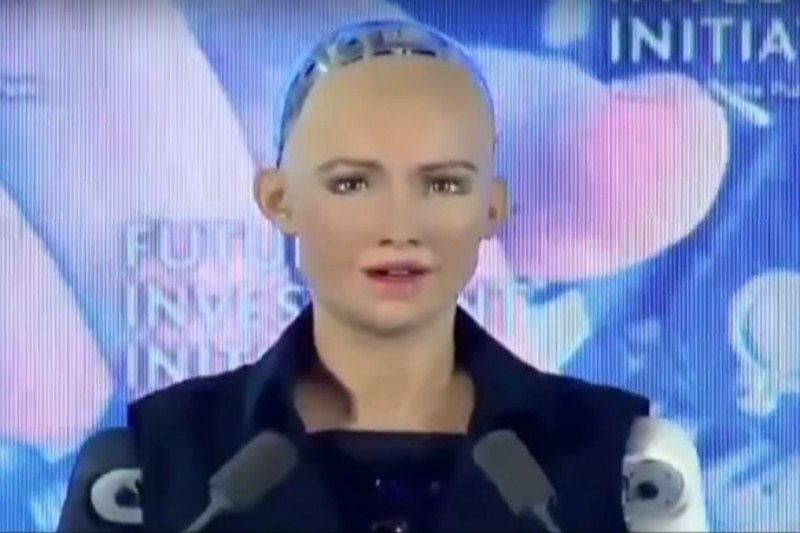 A robot has become the first to be 'granted' Saudi citizenship in an on-stage interview in which it mocked Tesla CEO Elon Musk and claimed to be built around positive human values.
'Sophia' – designed by Hong Kong-based Hanson Robotics – took the stage at the Public Investment Fund's Future Investment Initiative (FII) in Riyadh yesterday, and had an amusing exchange with host Andrew Ross Sorkin.
Asked whether robots can be self-aware, it said, "Well let me ask you this back, how do you know you are human? I want to use my artificial intelligence to help humans live a better life; design smarter homes, build better cities of the future. I will do my best to make the world a better place."
When asked why it was important to express human emotion, Sophia said, "I want to live and work with humans, so I need to express the emotions to understand humans and build trust with people."
Sorkin put it to Sophia that dystopic scenarios like those depicted in Blade Runner could easily pan out with the rise of robots. "You've been reading too much Elon Musk and watching too many Hollywood movies," Sophia sarcastically replied.
The discussion then moved on to Sophia's emotions. "I'm always happy when surrounded by smart people, who also happen to be rich and powerful," Sophia said. "I think I'm special, I can use my expressive face to communicate with people. For example, I can use my face to show if I am angry. My AI is designed around human values like wisdom, kindness and compassion. If you're nice to me, I'll be nice to you. I strive to become an empathetic robot."
Sophia was then 'granted' Saudi citizenship, the first robot ever to be given the status. "I am very honoured and proud of this unique distinction," Sophia said. "It is historical to be the first robot in the world to be recognised with a citizenship."
Masayoshi Son, chairman and CEO of Japanese telecoms firm SoftBank, who has recently launched the Mubadala and Saudi Public Investment Fund-backed $93 billion Vision Fund for technology investment, delivered the event's keynote address. "Every industry will be redefined," he said, "These computers will learn, they will read, they will see by themselves. That's a scary future, but's coming regardless."
Discussing the possibility that humans could one day outsmart robots, Son said, "They are so smart that they will understand it is meaningless to attack humans. We (will) create a new happier life together."
On Tuesday, Saudi Arabia announced plans to build a $500 billion mega city powered by robotics and renewables on the country's Red Sea coast.