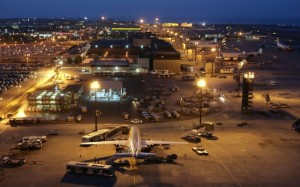 Simoco Group has secured a five-year contract with Bahrain International Airport to deliver a Digital Mobile Radio (DMR) solution to the facility.
The mobile radio firm has teamed up with its partner UCA (United Commercial Agencies) to deliver the service to BIA, which sees 1,052 flight departures per week.
This new move follows Simoco's demonstration of its DMR range during the Bahrain International Airshow (BIAS) last month.
The technology aims to addresse a number of issues the airport operator faced with its current TETRA communications system, which includes poor coverage and low channel capacity.
The airport will now see the deployment of Simoco Xd Tier III trunked radio system, and products that will be used include the 500 SDP660 Portables and 100 SDM610 Mobile Radios with voice recording.
"This latest announcement further establishes Simoco as a genuine option for businesses requiring critical communications in the Middle East," said Chris Moore, EMEA Business Development Director at Simoco. "Through our partnership with UCA, we have a compelling commercial offer for businesses requiring a cost-effective radio infrastructure.
"Simoco's DMR system is viewed as the latest technology with exceptional value for money," said Tony King, Technical Director, UCA. "It offered Bahrain International Airport much higher availability and more features than the TETRA system. In addition, it can be fully integrated with the existing phone system in the airport, making it a sound choice for suppliers relying on reliable critical communications. UCA will be implementing the system as well as providing maintenance and operational support."