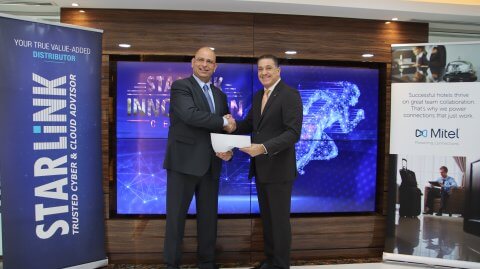 Value-Added-Distributor (VAD) Starlink has announced signing of MEA distribution partnership with Mitel, a global market leader in Cloud Communication and UC.
Mitel delivers all-in-one communications, collaborations and contact center solutions that organisations, be it small businesses or large enterprises, can either own or subscribe. With the cloud solution, Mitel has successfully helped organisations modernise their business communications, drive efficiencies, enjoy greater mobility, support a distributed workforce and access emerging technologies like AI and IoT.
Bashar Bashaireh, CEO StarLink said, "Digital transformation is a continuous process and a successful transition occurs when organisations hit the right balance between the best suited technology and strategic minds. Mitel's cloud, enterprise and next-gen applications enables organisations equip their teams with the right tools to enhance productivity and become agile."
He added that, "With this strategic partnership, we aim to expand Mitel's business footprint by providing our extensive partner base with better access to the Mitel product suite, thereby enabling customers make their business communications seamless."
Feras Zeidan, Managing Director Middle East & Africa, Mitel said, "Mitel is honoured to build another growth milestone pillar and sign a regional MEA distribution agreement with StarLink. I am convinced that with StarLink, we will fulfil partners Voice solutions ambitions, take them into the cloud & further grow our in-country customers and partners with additional values, from design to integration. By partnering with a strong VAD like StarLink, technology partners will gain local expertise, get fit-for-purpose solutions and roadmap entry into our software and services world. We are looking forward to a long and prosperous relation with MEA's number one VAD."
According to the company, the onboarding process will see high-level partner and customer engagements, extensive brand awareness initiatives jointly by, StarLink and Mitel with the objective of building a strong foundation and lucrative pipeline.