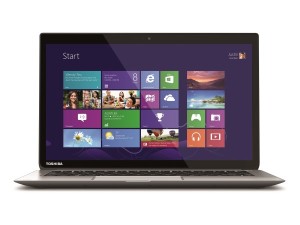 Toshiba Gulf has launched KIRA, a 13.3-inch touchscreen Ultrabook that combines a good design and sturdy performance. Designed for users who demand a premium computing experience, the ultra-portable KIRA is now available in the market.
Weighing only 1.35kg, it is 9.5mm at its thinnest point and is made with AZ91 pressed magnesium alloy for durability and has a brushed metal finish. The 10-point multi-touch display features Corning Concore glass for durability and fingerprint resistance, providing users with seamless navigation and unspoiled viewing clarity.
Powered by the 4th Generation Intel Core i7 Quad Core processor and running on Windows 8.1 Pro, the ultrabook with its 8GB of memory delivers speed on demand and consistent performance. It has 256GB of SSD storage and an SD card port that allows for extra space whenever required.
Ideal for travelling, it lasts up to nine hours on just a single charge. Additionally, one of its three USB 3.0 ports is equipped with Sleep and Charge functionality, allowing users to charge their mobile devices even when the ultrabook is turned off.
Having 90 percent more pixels than the standard HD, the KIRA supports 221 pixels per inch with its 2560×1440 ultra-fine pixel display.The screen is combined with the complimentary Adobe Photoshop Elements 11 and Premiere Elements 11 for a comprehensive image editing functionality.