The Telecommunications Regulatory Authority (TRA) has hosted a special workshop attended by representatives of all federal entities in the UAE, during which TRA has presented best practices related to the indicators of the mTransformation of government services, and the quality of online services.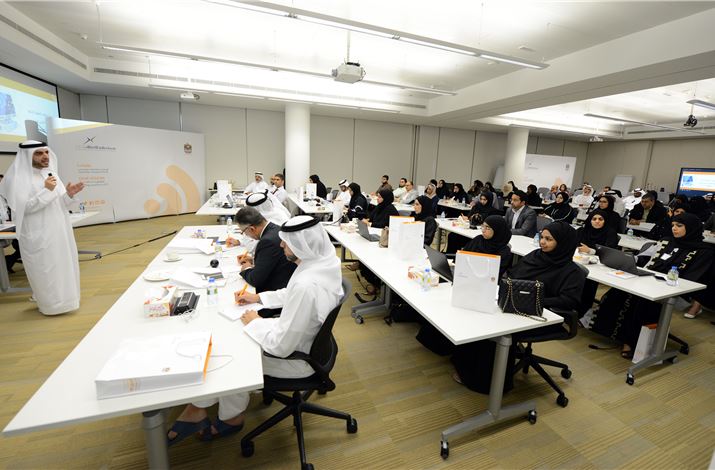 The workshop opening speech was delivered by Salem Ah Housani, Acting Deputy Director General for Information and E-Government Sector, and Chairman of the Online Service Index Team. During his speech, Al Housani addressed the best practices of mTransformation and online services quality indicators. Additionally, the guideline of online services integration indicator as well as the eBooklet of best practices have been launched during the workshop. Seven federal entities have been honored for their excellent efforts and collaboration with the mGovernment Enablers Team for upgrading the online government services and mTransformation. These entities are: Ministry of Finance, Ministry of Interior, Ministry of Climate Change and Environment, Ministry of Economy, Ministry of Energy, Federal Customs Authority, General Authority for Youth and Sports Welfare.
Six government entities presented their excellent practices in the indicator of the online services quality. Ministry of Economy presented a detailed explanation of the interactive search feature. In turn, Ministry of Finance presented the online form feature that reduced the time of filling in the form by the customer and the fields' explanation. The Federal Customs Authority presented the features relevant to people of determination in the website and mobile application. The General Authority for Sports and Youth Welfare also presented the online services assistance features. The Ministry of Energy provided a model of the service card, and the Ministry of Climate Change and Environment presented the profile customization feature on its e-Portal.
H.E. Hamad Obaid Al Mansoori, TRA Director General, said: 'In collaboration with other government entities, and with team spirit, we have succeeded in achieving great improvement in relation to smart government, represented by the progress of the required infrastructure to achieve the interconnection and integration of services on federal government entities' level in the country. Our objectives for the next phase are to implement the directives of the wise leadership by increasing the linkage between services, enhancing quality, utility and satisfaction. We are moving forward with great determination, relying on the spirit of cooperation shown by our brothers in government entities, of which we thank them. We are hopeful that the coming days will witness further achievements in terms of smart transformation and the development of government services to enhance the society and economy of digital knowledge.'
Salem Al Housani said: 'Many important developments have been presented during the workshop, including the Smart Pass feature, which allows customers to access all government services without having to re-register in multiple government websites. The Government Enablers Team provided a comprehensive and detailed analysis on the general performance of the federal entities during 2016, and its efforts to increase the rate of demand to improve the services quality and increase the rates of utilization. The role of these workshops is evident in enhancing cooperation and coordination between government entities in order to achieve the objectives set in the national agenda in this regard.'
The TRA organises these workshops within its responsibility for the online services index, in which the country aims to achieve global leadership by the Golden Jubilee 2021