Dubai Airports, in cooperation with Dubai Future Foundation (DFF), has developed the 'Microcosm of Dubai', a new initiative that aims to give passengers transiting through the emirate's airports a unique experience of the city.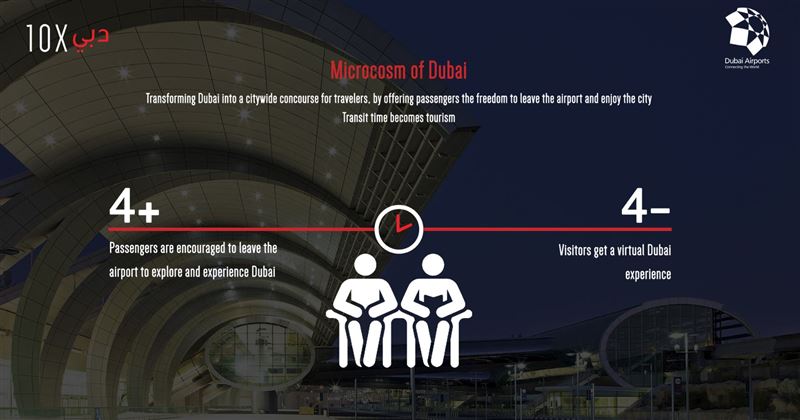 Under the new initiative, passengers with a transit time of more than four hours will be allowed to enjoy a city tour allowing them to experience the emirate's "vibrancy, culture and innovation."
Meanwhile, passengers with less than four hours of transit time will be able to take a "virtual tour" of the city.
"Microcosm of Dubai" is one of 26 'Dubai 10X' initiatives developed by 24 government entities in Dubai approved by Sheikh Hamdan bin Mohammed. The 26 initiatives were chosen by a committee of experts and specialists after evaluating more than 160 ideas submitted by 36 parties in less than 365 days.
Paul Griffiths, CEO of Dubai Airports, said, "The 'Microcosm of Dubai', developed in cooperation with the Dubai Future Foundation, will enable hundreds of thousands of passengers passing through Dubai International Airport daily to experience the various facets of Dubai while they are in the airport through interactive experiences, virtual reality and cultural displays with our artDXB and musicDXB programmes. If their connection time exceeds four hours, they will have the option of taking a tour of Dubai."
Sheikh Hamdan bin Mohammed launched the 'Microcosm of Dubai' initiative along with other Dubai 10X proposals at the 6th World Government Summit, held in Dubai in February 2018.
"For years, we have been studying the DXB Plus project, which aims to increase the airport's capacity to 118 million passengers by 2023. The 'Dubai 10X' initiative gives us a real opportunity to achieve our goal of becoming the best airport operator in the world and making DXB a destination in itself."
According to Griffiths, the new initiative will enable them to achieve their goal of disrupting current airport models by focusing on the customer and discovering new ideas that solve current service challenges.
"We will be working with our service partners to ensure our solutions consider all aspects of the airport and travel experience," Griffiths said. "The launch of Dubai 10X has further encouraged us to go beyond traditional ideas and explore new horizons of creativity and innovation."