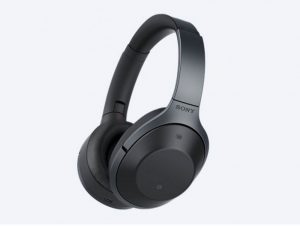 Sony MDR-1000X headphones perform well and support the High-Resolution Audio format, which the company promotes with most of its products. If you are an audiophile and have Hi-Res music files, you may want to get your hands on this new Bluetooth headphones from Sony.
While Bose is considered an industry leader in Noise Cancellation headphones, Sony has come up with a competent product geared towards frequent travellers. The MDR-1000X has microphones, not just on the outside to measure ambient noise but also on the inside. Sony calls this the Sense Engine feature, which considers the user's personal characteristics and wearing style. For example, the shape of head and ears or if the user is wearing glasses or not.  Essentially this means that the drivers and the ambient noise measuring microphones will adapt to the level of noise cancellation required to produce the ideal sound.
The device comes with a convenient carrying case that lets you carry the USB charging cable, a 3.5 mm wire and an airplane adaptor. The device itself is bulkier and heavier than its direct competitor, the Bose QC35, but this is done in order to provide some nifty features.
The right ear cup offers gesture controls like play, pause, forward and rewind. The MDR-1000X has a unique trick up its sleeves, place your hand over the right ear cup and the noise cancellation is turned off allowing you to listen to your surroundings. This is particularly handy when having to listen to announcements while travelling or if someone comes up to say something to you. The music pauses and once you remove your hand it continues to play. On the left ear cup, you have the physical buttons like to power on/off, the Noise Cancellation on/off and the ambient noise on/off. They are slightly difficult to find initially but over time you will remember their locations.
The most important question everyone has with Bluetooth headphones is the battery life. The MDR-1000X exceeds expectations, offering up to 20 hours of wireless listening and if you use the physical cable you will get up to 40 hours. Charging from empty to full takes roughly four to five hours. Pairing with a smartphone is either via Bluetooth or NFC.
The Sony MDR-1000X sounds excellent and offers one of the best noise cancellation features available in the market currently. Along with good battery life and nifty features like the Sense Engine, Sony has produced an intelligent piece of hardware for music lovers.