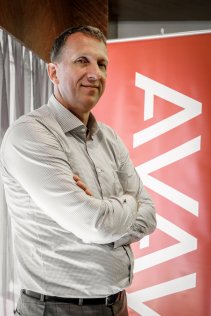 Ard Verboon, senior director product management, Avaya, elaborates on the firm's devices strategy and how it is innovating in the open SIP space.
As today's workforce increasingly leverages digital tools to expedite tasks and enhance efficiencies, enterprises are on the lookout for Unified-Communications-as-a-Service (UCaaS) providers who can offer innovative devices to increase productivity.
In line with the evolving market trends, Avaya has recently introduced its Desktop Experience open SIP offerings with the promise of enabling UCaaS providers to deliver a more value-added experience. With the new smart devices, the company aims to give users the ability to personalise their communications and a one-touch access to cloud-based applications, going beyond providing a phone with just voice call features.
In an exclusive event, the firm's senior director product management Ard Verboon met up with top partners to share insights on its new offerings and how they can scale their businesses in the transforming business environment.
Speaking exclusively to TahawulTech.com, he said, "The primary way we want to scale our operations is through our strong partner ecosystem. We are sharing our new innovations with our partners and explaining how they can best position them to drive maximum revenues. We are also listening to their feedback on whether the value propositions we have created works for them or not."
When it comes to the company's devices strategy, Verboon emphasised that Avaya is not a hardware company and will never be one. However, he points out that good software needs good hardware.
"If you have both aspects then you can drive good services business," he added. "Also, the coolest cloud software will still need to interface with a human being. There are a multiple number of ways you can do this such as using standard IT equipment, laptops, iPads or cellphones. There exists a huge space for dedicated hardware solutions where you bring that human interface to the next level and add more value to the way people use your cloud software."
While Avaya has competitors, who might have great cloud software but lack in their own endpoint or vice versa, Verboon said that it is one of the few companies that has strong capabilities in both aspects
"We believe that Avaya on Avaya deployment can provide better integrated and more effective solutions – this is our promise to the market."
According to Verboon, there are huge opportunities in the Open SIP open code control solutions market, which are creating a paradigm shift. Avaya is aiming to enable partners to take advantage of these opportunities.
"Our objectives include becoming a more customer-centric company and living up to this promise of becoming more open, and we deliver on that in multiple ways such as an open API culture and our innovations with open SIP," he said. "We look at effectively tripling the addressable market for our partners."
The firm's Desktop Experience expanded portfolio now comprise additional Avaya Vantage devices, conferencing devices, and the complete J100 Series IP Phone portfolio as well as new devices for hospitality, wireless handsets and headsets.
"Having been in the tech industry my whole career, I've learned the power of innovation. At the end of the day, innovation is your only way forward. That's why we have decided to embark on the whole Vantage product family, knowing that it might not make you rich in year, but it will be your volume base five years down the road," said Verboon.