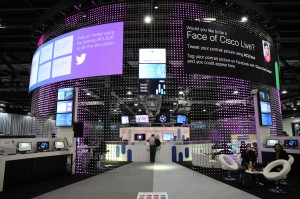 When Cisco sold its home networking arm, Linksys, to rival Belkin in January, the firm said that it wanted to commit to its enterprise and service provider businesses. Having all but dominated the world of home networking for more than a decade, it was time for Cisco to step back and get its priorities straight.
It was a move that could have gone either way, but, by the looks of things at the Cisco Live conference in London, the firm has got the right idea. Given the scale and scope of the vendor's current enterprise, service provider and data centre portfolio, the home networking business seems a little trivial for such a company to be troubling itself with.
The word of the day seemed simple: Cisco has a lot more to offer the world than a decent WiFi router. And, in the enterprise segment at least, the firm is becoming something of an unstoppable force, as shown by its products that seem, at first glance, way ahead of the competition.
A certain change is in the air at Cisco, then, but, as Padmasree Warrior, CTO, Cisco, noted in her keynote speech, change is happening all around the technological world. "I was reading an article in Forbes last week, and it talked about jobs that are in high demand. There were things like data scientist, user experience designer and social media manager. None of these were even heard of 20 years ago," she said.
"But perhaps the most significant change that amazes me is the growth in the number of devices that we use. In 1984, when Cisco was being created, there were 1,000 devices connected to the Internet. By 1992, that number became 1 million. By 2020, we expect 50 billion devices to be connected to the Internet."
The message that IT managers and CIOs had to get into their heads, she implied, was that they need to find ways to accommodate all of these devices on their networks. Indeed, much of Cisco Live was spent discussing how to better manage this exponential growth in the number of devices connecting to the Internet.
The problem, Cisco's representatives said, come with the fact that employees now want to access networks from their tablets, smartphones and personal computers. And while CEOs and CIOs are only too happy to subscribe to policies such as BYOD and cloud integration, a hastily sketched plan could place incredible strain on a network that is not ready to accommodate it.
Of course, Cisco had its own solutions to this problem, and was keen to show them off at the London conference. The mantra of Unified Access is at the core of the company's plans going forward, Cisco said. This means being able to manage multiple networks through one unit and allowing any wired or wireless device safe access onto enterprise networks.
"We believe that networks need to be simpler, more secure and easier to operate," said Rob Soderbery, Senior Vice-President and General Manager of Enterprise Networking, Cisco, in his keynote speech. "But in terms of new users, and new types of devices, and all the things that come onto your network, these things are actually working against that idea. Our idea is to keep all of those devices, and the network, safe."
To this end, Soderbery previewed a new set of products that would help companies upgrade their networks so that they are easier to manage. At the core of the new product line-up, he said, is the new Unified Access Data Plane ASIC, which allows for a new architecture that converges the processing of wired and wireless traffic into a single data plane.
Soderbery said that wireless networks have previously been built as overlays to a wired network, resulting in having two logical networks to manage. With the new Unifed Access products, though, everything can be managed through one unit.
"We're going to converge that wired and wireless network," explained Soderbery. "The Unified Access Data Plane ASIC is at the core of our new converged wired and wireless platforms, giving you all of your wired features, and, at the same time, all of your wireless services as well."
Part of the new line-up included the new Catalyst 3850 Unified Access Switch, which delivers one physical infrastructure for wired and wireless networks, and the new 5760 Unified Access WLAN Controller, which 60Gbps performance. The 5760 can be managed through Cisco's IOS-based software, which provides information on what kinds of devices are connected to the network, how much bandwidth they use, and who they belong to.
The new products were certainly impressive, and enough for an IT manager to get excited over. Following a demonstration of the line-up, Soderbery enthusiastically asked the keynote audience to applaud the engineers that created the technology – but only if they agreed that it was "awesome". It goes without saying that the thousands-strong crowd erupted into cheer.
But the ability to converge wired and wireless networks was not the only trick that Cisco had up its sleeve in London. On the second day of the conference, security was the order of the day, with the vendor releasing its annual security report and its new solutions to address the changes in security needs.
The report showed that security threats are now much more far reaching on legitimate sites than they once were. Cisco said that search engines are now 27 times as likely to deliver malicious content than counterfeit software sites, while online advertisements provide an even bigger risk. With the rise in employees wishing to take their own personal devices into work, Cisco said, this creates a real problem for businesses looking to protect their networks.
"Today, we live a blended work-personal life," said John N. Stewart, Senior Vice-President and Chief Security Officer at Global Government and Corporate Security, Cisco. "The hackers know this, and the security threats that we encounter online, such as embedded Web malware while visiting popular destinations like search engines, retailers, social media sites and smartphone or tablet apps, no longer threaten only the individual; they threaten our organisations by default."
Of course, Cisco had yet another solution to showcase. Its idea was to converge all of the security capabilities that are currently available into one simple and easy-to-manage platform. The firm said that firewall management, application management and security analytics should all be brought into one architecture to protect effectively.
One way to do this would be through the new Identity Services Engine (ISE) 1.2, which Cisco has already made available with the likes of SAP, Citrix and Zenprize, to name a few. It is essentially a series of APIs that will integrate with mobile device management, giving customers the ability to integrate network-enforced policy to device-enfored policy.
"As devices start to proliferate, ISE can become a platform for customers to manage devices and bring policy to those devices," said Christopher Young, Senior Vice-President of Security and Government, Cisco. Young also said that the ability to identify devices is now becoming increasingly important, so now ISE offers a constant feed for device profiles, which is constantly updated with information from devices manufacturers bringing out new products.
Young also announced the acquisition of Czech security firm Cognative Security, which has developed analytics technology that will help to identify threats inside and outside the network. Cisco believes that this kind of technology will go a long way towards protecting against advanced cyber threats, and plans to roll it out with its global security products once the acquisition is finalised later this year.
Adding new functionalities to its products has been a source of great focus for Cisco over the past year. The firm has invested massively into new software capabilities that will ultimately improve user experience. In her first keynote speech, Warrior said that Cisco has closed eight acquisitions over the past six months, all of them in the software space. It is no longer enough that Cisco makes good hardware, the message seemed to be. Instead, the firm has to provide a comprehensive service.
But with its new range of products, vastly expanding partner ecosystem and keen eye for interesting acquisitions, Cisco looks set to offer such things. And judging by the professional response to its announcements at Cisco Live in London, it seems as if the vendor should get on fine without its home networking business.