Philippe Jarre tells Anita Joseph all about Mindware's journey to being the global distributor of choice that it is today.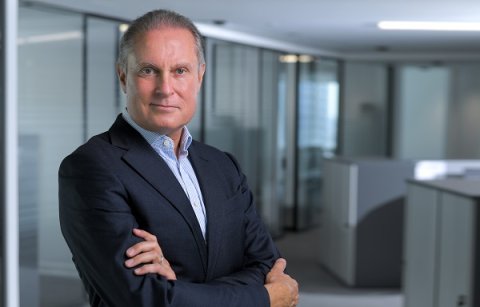 Tell us a little about Mindware and its activities in the region.
Mindware is a global IT distributor that combines the best of both worlds with global best practices tailored to the region's individualities. We offer a complete portfolio of over 50 top-class vendors covering an array of technology verticals such as security, infrastructure, and networking, making us a one-stop-shop for all IT needs. Our dedicated services division has 45 solution and pre-sales consultants and focuses on enabling partners. Mindware has a solid financial position that enables us to finance the most complex deals. With warehouses in more than a dozen countries across the MEA region, that allows for faster delivery of hardware and an effective supply chain. I share the journey of our own company as an example of how the market is changing and how VADs need to adapt in order to stay ahead of the curve.  
How has the role of distributors in value-added distribution evolved over the years, especially in the context of the digital era?   
The traditional responsibilities of IT distributors are changing rapidly. Digital transformation is becoming a key driver of growth in the industry. Businesses are increasingly turning to digital technologies to streamline operations, improve customer experience, and gain a competitive advantage. As a result, IT distributors will need to offer a wide range of digital solutions to help their customers navigate this transformation. Our emphasis must shift towards supporting the technology that underpins this transformation: cloud computing, security, IOT and data analytics. Mindware is investing heavily in these areas and are constantly upskilling to stay as market leaders and help our partners to succeed in the ever-changing technology landscape. 
With the recent economic changes and challenges, as well as the addition of too many dynamics to the global trading and commerce industry, we truly believe that a value-added distributor (VAD) like Mindware plays a pivotal role in supporting and facilitating the digital transformation across geographies in general and emerging countries in specific. 
Players in the industry, who have the financial stability and easy access to cost-effective capital, may have a strong interest in acquiring small distributors that are experiencing high financial costs and low return on capital employed (ROCE). With their financial resources, larger players can leverage economies of scale and synergies to enhance their profitability and gain a competitive edge in the market. Furthermore, through acquisitions, distributors can expand their geographic footprint and customer base, as well as gain access to new products and services.   
Mindware provides robust financial capabilities in a very financially challenging world today. Our legal presence in most Middle East and Africa countries, as well as our warehouses in over a dozen countries across the MEA region, enable us to offer faster delivery and a more efficient supply chain. Additionally, our dedicated Services division focuses on enabling our partners rather than competing with them, and possesses recognized technical expertise in tailoring the best solutions for our partners and their customers.  Our technical services include pre-sales support such as consultation, implementation, integration, and training, which help our partners and resellers identify and deploy the right solutions to their clients. We also offer post-sales services such as managed services and cloud services, which provide ongoing support and maintenance to ensure that those solutions continue to meet their clients' needs over time. Additionally, we offer services in emerging areas such as AI, IoT, DevOps, and Security, providing the necessary support and expertise to help our customers stay ahead of the curve and achieve their business goals. Mindware is committed to delivering the highest level of service and support, and to being a true partner to our customers in the MEA region and beyond. 
In what ways have digitalization and e-commerce changed the landscape for distributors? What opportunities and challenges have this presented?  
Recognizing the shifting dynamics, Mindware conducted an in-depth analysis of market trends and opportunities a few years ago, identifying significant potential for eCommerce platform. Building upon this insight, the company embarked on a journey to leverage this opportunity and expand its presence in the digital commerce space. The idea was to reach a customer base outside of the traditional region and to reach all decision makers within the organization. E-commerce platform automates the entire purchasing process, from order processing to inventory management. By launching Mindware's e-commerce platform www.store.mindware.net we provide customers with the purchasing options they expect while staying ahead of the curve.     
 The IT industry has made a big leap towards digital transformation which was essential in the pandemic era, and since then it has evolved at an alarming rate. Mindware is focused on providing improved customer experience and digital transformation by enabling self-service options, real time updates and enhanced communication channel. Not only that, DX helps Mindware to be more agile and respond quickly to market changes and new customer demands. With automated process and real time data, we make informed decisions and help our partners to adapt the same as part of their business strategy. Most of the business has transformed into cloud, public/private hosting, SAAS, AI, VR and AR, the portion of traditional distribution is getting smaller every day, and the need to high-tech distribution, with the proper online channels such as marketplace, ecommerce, online services and remote assistance is growing day by day. 
Mindware is leading the charge in digital transformation and innovation with Mindware Cloud marketplace, automation tools, supply chain capabilities, and as-a-service education portals. The emergence of online marketplaces presents both a significant opportunity and a challenge for the entire channel ecosystem. More vendors are offering their solutions on their own digital storefronts and also leveraging distributors' marketplaces to increase their reach, gain access to new routes to market, and ensure that the channel adapts to the evolving needs of vendors. 
Mindware saw this as a great opportunity to fill the gap with resellers to assist them in navigating complex XaaS licensing models and simplify their purchase process and launched its marketplace few years back. Mindware's marketplace (www.mindwarecloud.com) offers its partners a range of aggregated cloud solutions from various hyperscalers, private cloud providers, and ISVs, in addition to our cloud professional and support services. This approach helps partners and their clients with their cloud transformation journey and enables them to cross-sell and upsell. The marketplace provides a smooth user experience, and the platform's API integrations automate the subscription and consumption management required for high-volume cloud and XaaS business. 
What do you see as the future of value-added distribution in the digital era, and what should distributors be prepared for in the coming years?  
Distributors need to embrace digital transformation, not just in their own operations but also in the services they offer. The digital era demands specialization, with distributors becoming experts in specific industries or technologies. The role of a distributor as an aggregator will continue to be crucial. In an increasingly complex digital landscape, where new technologies emerge constantly, distributors act as a bridge between vendors and resellers. They provide the necessary expertise to assess and bundle solutions effectively, making it easier for resellers to meet the diverse needs of their clients 
The shift to online purchasing is becoming real and IT distributors who do not have an online presence may find it challenging to remain competitive. There will be a surge in cybersecurity needs with the rise in digital transactions. Distributors should prepare to cater to this demand, prioritizing cybersecurity and providing security solutions. 
Can you discuss some key trends and technologies that have impacted the distribution industry, and how Mindware has been adapting to them?  
There is a lot of buzz around AI and ML in the market now. It is evident that with the right capabilities, everyone is developing their own version of ChatGPT. Many customers in the region have decided to invest in hardware, software, and services to build their own machine learning and generative AI solutions. This presents a significant opportunity for us, and we are actively involved in these projects that will have a tremendous impact. 
The next crucial step is the seamless integration of AI and ML with other supporting components. We are making substantial investments in the areas of security and cloud. Our partnership with Google Cloud is just the beginning, and we anticipate forging additional associations shortly. 
Furthermore, we have made a strategic decision to invest in sustainability offerings. This solution allows us to leverage the best sustainability capabilities from our vendors, including industry leaders like IBM and Microsoft. We provide these offerings to our partners, enabling them to showcase their commitment to sustainability. With COP28 approaching in the region and sustainability being a top priority for everyone, we have incorporated this into our portfolio. It is important to note that sustainability is not a new software or product; rather, it is a packaged approach that allows partners to offer this to the market, especially small and medium-sized enterprises (SMEs) with limited capabilities for significant investments in sustainability initiatives. 
How has Mindware been leveraging partnerships and collaborations in the value-added distribution space, particularly in the context of digitalization?  
It all begins with establishing strategic partnerships with technology vendors and manufacturers. Our ability to select the right products for our portfolio and anticipate the essential components for supporting digital transformation has always been an integral part of Mindware's DNA. Consequently, we can proudly claim to possess the most comprehensive vendor portfolio in the industry. By working closely within our ecosystem of channel partners, we collectively deliver exceptional digital solutions to our customers. These collaborations encompass various aspects such as joint marketing initiatives, co-development of solutions, and privileged access to cutting-edge products and technologies. In addition, we prioritize equipping our partners with the necessary skills through training and certification programs to effectively sell and support digital products. 
Furthermore, we extend our collaboration to third-party service providers, enabling us to provide an array of services, including cybersecurity, data analytics, and managed services, alongside the distribution of digital products. Lastly, recognizing the dynamic nature of technology, we engage in partnerships with educational institutions to ensure that we can offer the essential training programs and certifications to keep our partners and customers well-informed and up-to-date. 
What other initiatives is Mindware taking to address the changing demands in the market?  
Skills shortage is a key challenge being faced in the region today by both vendors and distributors. VADs require highly skilled professionals with deep knowledge and expertise to provide the best solutions to our partners and customers. As technology evolves and becomes more complex, the demand for highly skilled professionals in the IT industry has increased, making it more difficult to find and retain top talent. At Mindware, we have already taken the first step in acknowledging and addressing this gap in the region.  
Last year, we introduced the Mindware Academy, an internship program designed to hone technical skills and provide students with hands-on training in real-world scenarios, preparing them for future roles in the industry. Recognizing the skills gap in the region, our program aims to address this issue by offering young talent the opportunity to gain practical experience. We are pleased to announce that we have welcomed one of our former interns as a new member of the Mindware team, underscoring the program's success in nurturing and hiring emerging talent within our organization. 
At Mindware, we are more than just an IT distribution company; we are a trusted partner to our customers, providing a comprehensive range of value-added services to help them succeed in today's fast-paced and rapidly evolving technology landscape.