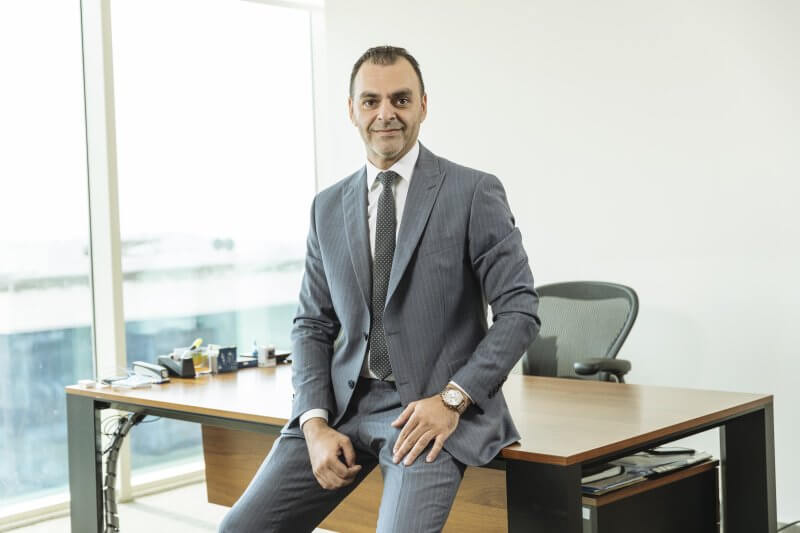 Jordan's leading investment and commercial bank has become one of the Middle East's Blockchain success stories after implementing an early adopter version of the Oracle Blockchain Cloud Service.
The new service launched by the tech giant has now been made generally available, and has allowed Arab Jordan Investment Bank to make electronic fund transfers simpler by reducing cost, increasing efficiency and security levels and delivering a much-improved customer experience.
IDC estimates that total spending on Blockchain in the Middle East and Africa will reach $307 million in 2021, with the public sector, financial services and distribution industries expected to emerge as the top three sectors that will adopt the technology.
IDC also suggests that cross-border payment and settlements, assets, goods and identity management will be the top three use cases of Blockchain in 2021.
Arab Jordan Investment Bank CIO Ayman Qadoumi, along with the firm's chairman, board and top management, began to consider Blockchain "in early 2017", and explored vendors that the firm could partner with to deliver a solution. An innovation-minded technology leader, Qadoumi has always been determined to think outside the box in order to enhance AJIB's value proposition.
"It's important for those who want to maintain or increase their position in the market to be innovative and enhance their digital channels," he says. "We always want to look for new solutions in order to do this. There's now a whole new landscape in terms of customer demand and requirements; their expectations have gone up a level. We need to offer them something different to ensure that we retain their loyalty, and that we're beating our competitors. It's so important to improve the customer experience and the efficiency of their journey."
Having evaluated use cases for how Blockchain could be successfully deployed with the biggest possible benefit across the bank, Qadoumi and AJIB decided that the process of cross-border funds transfer was ripe for disruption. Traditionally, the method of sending money between different banks and jurisdictions relies on third party intermediaries, who, by their very nature, ensure that the process is never instant. "This costs banks and customers more money and time, and transfers typically take 2-3 days," Qadoumi says. "Blockchain can eliminate that that cost and time, and makes the whole process more efficient."
We need to offer customers something different to ensure that we retain their loyalty, and that we're beating our competitors.
Eager to get the ball rolling, Qadoumi began discussions with big tech players in order to find a partner that could help to fulfill AJIB's Blockchain ambitions. "We contacted Oracle, who showed a lot of interest in our various use cases for Blockchain," Qadoumi says. "They supported our plan and we decided to become an early adopter by opting for their platform."
AJIB set the wheels in motion on a POC for a Blockchain-based platform that could deliver cross-border bank transfers. AJIB's initial use case would see the bank delivering fund transfers from its Amman headquarters to its Cyprus subsidiaries. AJIB worked with its partners, including core banking system provider ICSFS, to prepare a transfer environment between the two countries, and delivered the necessary middleware and integration layer between the Blockchain and AJIB's core banking systems.
After completing successful tests on the service, it now runs between AJIB's headquarters in Amman and its Cyprus subsidiaries, but is yet to go public pending regulator approval. The firm plans to roll the system out to other banks and countries in the "near future" once approved.
"For us, the main benefit of using Blockchain is reducing operational cost," Qadoumi says. "It's also increased efficiency and delivered real-time banking services to our customers, and has eliminated the costs of third parties.
"Oracle's Blockchain platform has helped us minimise the complexity of electronic fund transfers by increasing security levels and ultimately improving the overall customer experience," Qadoumi says. "If you have a son or daughter in Cyprus and want to send them money, it would usually take 2-3 days to make that transfer, but by using Blockchain it's now instant," he says. "The impact on the customer will be marked."
He adds that the technical features of the platform have made it easy for AJIB to develop other services around Blockchain. "The built-in features such as identity management and data encryption made it an ideal choice given our industry requirements and compliance needs," he says. The REST APIs helped us and our partner to accelerate application development and integration with existing core services."
If you have a son or daughter in Cyprus and want to send them money, it would usually take 2-3 days to make that transfer. Blockchain makes that instant.
AJIB has now transformed the process of fund transfer, which is linked to smart contracts that can be used within Blockchain, Qadoumi is also satisfied with the increased levels of IT security that the changes will bring. "Security is one of our main concerns and challenges," Qadoumi says. "Blockchain will give us higher levels of security, but compliance is also a major challenge. The compliance component we use in our Blockchain platform is automated and integrated, so we've been able to meet the necessary standards."
Qadoumi adds that AJIB has also held productive discussions with Jordan's Central Bank to find ways that the firm can match up to necessary national banking standards. "We've discussed this use case with the regulator, and we are in advanced discussions with them to continue in this area," he says. "It's a big change in terms of banking, which is a highly regulated environment. Any change must meet a lot of regulator requirements. We've managed to overcome this challenge by achieving their requirements where we can."
Looking ahead, Qadoumi believes there are a range of other disruptive technologies and trends that AJIB could incorporate in its continuous bid to be one of the Middle East's most innovative banks. "The Fintech space has become so broad, and we're exploring a lot of these technologies to extend our digital transformation roadmap," Qadoumi says. "We've also got AI and big data technologies in mind, with more services and use cases based on the Blockchain. Looking forward, I'm hoping we'll be one of the most digitally transformed banks in the region."
The Oracle Blockchain Cloud Service has already been adopted by a number of global organisations, including CargoSmart, Certified Origins, Indian Oil, Intellipost, MTO, Neurosoft, Nigeria Customs, Sofbang, Solar Site Design and TradeFin.
Oracle has made it a priority to offer an easier way to adopt blockchain and transform an enterprise with the industry's "most comprehensive, autonomous and enterprise-grade" Blockchain cloud service.
Oracle Autonomous Blockchain Cloud Service securely extends business processes and applications while enabling the business to process transactions much faster, according to the firm.