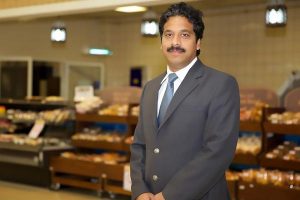 Having established itself in 13 locations across Dubai since the brand's inception in 2008, Aswaaq now prides itself as being "one of the most trusted retailers in the UAE." The homegrown brand operates both supermarkets and small-to-medium-sized shopping malls across the emirate, in addition to a variety of other services.
Striving to remain at the heart of residential communities, each of the branded malls is complemented with a tailor-made assortment of shops to meet the demands of the local neighbourhood. Enhancing the customer experience of shoppers is a critical mantra for any retail outlet, and in order to ensure the brand remains one step ahead of its competitors, IT director Manoj Vijayan believes technology has a huge importance in accelerating this progression.
"Technology plays a vital role in giving us an edge towards the ever-changing, dynamic market trends that surround us in the retail industry," he says. "This means that any solution we plan to implement must be seamlessly integrated, with end-to-end capabilities."
In line with this, Vijayan recently opted to implement an indoor positioning system using visual light communication (VLC) technology across Aswaaq's outlets.
Through this new system, customers can use their smartphones to access location-based services via the transmission of data through a flicker of light. This flicker is imperceptible to the human eye, but can be detected by the customer's smartphone camera.
"Once our customers have downloaded the retailer's app, they can choose to access these location-based services across the store, which gives them the ability to locate items on their shopping list to an accuracy of 30 centimetres," explains Vijayan. "The data stream is also a one-way transmission, meaning no personal data can be collected from the lighting system."
First and foremost, this process has the potential to drastically reduce the amount of time customers spend shopping – particularly if the store is unfamiliar to them. The ability to create a tailor-made shopping list on the app itself and then track the location of these items with 80 percent accuracy allows customers to efficiently navigate themselves around the store, taking the shortest route possible.
According to Vijayan, the experiment of the indoor positioning system using VLC technology was the first in the region, and only the second in the world. "This meant that it took some time for the feasibility study to be completed, and further time to formalise the scope which ultimately empowers our customers and staff on the shop floor," he says. "Coordinating with multiple solution providers of different time zones across the globe to enable our internal subject matter experts also extended this implementation process."
However, since the integration of the technology, Aswaaq has seen a range of benefits to both customer experiences and the business's bottom line. "The project has certainly improved our brand value, and customers seem to really appreciate the pragmatic approach we have taken to empower them," says Vijayan. "This positive feedback has not only enhanced our customer loyalty, but has also excelled our turnover."
Aswaaq has started implementing LED lights across its stores to coordinate the technology, as well as striving towards operating in a sustainable and eco-friendly environment. Vijayan also believes that businesses in the retail industry must continue to innovate in line with evolving technology demands if they are to remain competitive players. In addition to the VLC implementation, Aswaaq has installed a sales transaction kiosk concept called "no cash, no credit card, no mobile," which simply uses biometrics to carry out transactions.
This acceleration in evolving technology is also mounting pressure on retailers, as it has a huge influence on the expectations of customers when they carry out their supermarket visits. "Customers now expect to see an interactive and engaging model on the shop floor, instant promotions delivered directly to them, with quick queue-busting options to avoid delays during the checkout process," says Vijayan. "Aside from this, online shoppers also expect there to be a quick turnaround in receiving their orders, in addition to having click-and-collect delivery options available."
But with e-commerce being the regional hot topic of 2017 to date, will the likes of Aswaaq and other traditional supermarkets be outmuscled by companies such as Amazon who continue to introduce services to transform the industry? Vijayan believes otherwise.
"Brick and mortar is always going to be there, as long as retailers are innovative and address the human factors involved in the shopping experience," he says. "Moreover, even if 90 percent of customers go online, retailers still need a huge picking fleet with various main and satellite facilities, as well as a base to set up an effective delivery model to serve 'click-and-collect' customers timely and efficiently."
Even the big players in the market, such as Amazon, that began their journey online are reverting to setting up a physical presence through the likes of 'Amazon Go' outlets that have recently opened in the US.
Looking ahead, Vijayan intends to develop a variety of digital channels within Aswaaq's infrastructure to encourage further business benefits. "In order to be a market leader, you really have to adopt business transformation initiatives through digitalisation," he says. "We have created a digital transformation department and developed an interactive digital ecosystem to address the entire digital environment to support both customers and employees."
Aswaaq has initiated a number of projects relating to this hot topic, and Vijayan hopes to continue moving towards the same revenue model that has been applied in current projects, such as the VLC system implementation. "Any digital touch point will soon be a sales channel at Aswaaq," he says.