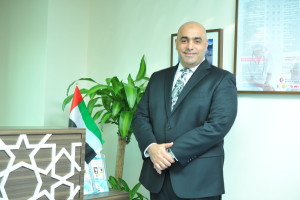 Al Noor Hospital has a history of pushing the edge of healthcare technology. Until now, much of their IT infrastructure has been custom built in-house. However, recently, Al Noor Group has implemented an SAP ERP system that will automate it's Patient Registration and back office operations as well as an SAP HANA system that will analyse the massive amounts of data generated by the company every day. Seeking solutions from an outside source may be new for Al Noor Hospital, Head of ICT Wissam Ismail is confident that the move will ultimately be a boon for all Al Noor patients and employees.
Since its inception in 1985, Al Noor Hospital, headquartered in Abu Dhabi, has provided continuous care for its patients. Building on its success in previous years, Al Noor Clinic opened its Khalifa Street branch in 2001. Then in 2006, an Al Ain campus was opened to meet the needs of the communities of the greater emirate. In 2008, Al Noor continued its expansion, opening its Airport Road branch in Abu Dhabi in 2008. According to Wissam Ismail, Head of ICT, Al Noor Hospital Group, the organisation is going to continue on the path of expansion. "I think I can tell you now," he says, "that we plan on opening a clinic in Oman." This will be the first Al Noor facility outside of the UAE.
All told, since it's original founding by Dr. Kassem Alom, Al Noor Hospital Group has acquired some 15 polyclinics and sees some two million individual patient visits per year. As one of the largest private clinics in the region, Al Noor's administration is dedicated to keeping its patients healthy – and to that end, Ismail knows that they need a healthy and robust IT infrastructure on which to rely.
Al Noor has always recognised the importance of technology in the healthcare sector. In an effort to meet the unique needs of their hospitals and other facilities, they have developed a suite of custom software, built all in house. "As a group, we've wanted to do everything ourselves pioneering healthcare IT in Abu Dhabi," explains Ismail, "because we know what we need, and we have the technical expertise to create it perfectly to match the demands of our end users." As of 2011, the company ran a web of about 30 bespoke hospital management and back office applications.
The result of having custom built IT solutions has been quite a success and has allowed the company stay on the cutting edge of healthcare technology. Their extensive list of awards and achievements, including the Sheikh Khalifa Excellence Award – Gold category – belies the effort and dedication that the administration has put in to making the patient experience as pleasant as possible.
One of the most important implementations in the history of Al Noor Hospitals was the custom built Electronic Records Management system implemented in 1999. This implementation truly set the tone for Al Noor's future with healthcare technology. Fast forward to today, and that same desire to stay modern is still in play. "When I joined in 2010," recalls Ismail, "I knew the challenge would be ensuring that we provide the best possible solutions in an expanding operation."
Unfortunately, the long term result of a well-intentioned push to provide custom solutions for end users was a sacrifice in streamlined systems. "Several of our bespoke applications were in multiple software branches and in geographic data silos," explains Ismail. "Based on the projected growth plans of at least doubling in size through organic growth and acquisitions, it became essential that all of our business information systems be integrated into a single technology platform using a common database and common development environment."
Enter SAP. After an exhaustive RFP process, Ismail and his team decided that SAP's HANA was the optimal solution to meet their growing needs. "SAP was fully integrated," says Ismail, "and has essentially been a one-stop shop for our computing needs."
Thus began the roll-out of SAP HANA into all Al Noor facilities. "The process wasn't difficult," says Ismail, "but I would say that there were some challenges." For one, the company, and more specifically its end users, were used to their technology solutions tailored to their specific needs. While the solutions offered by an outside vendor were customised, it may have lacked some of that "homemade" feel. "It was a shift to go from in-house solutions to products from the market," admits Ismail.
In spite of some shifting pains, the move was worth it. The most notable improvement, says Ismail, is the ability to access data instantly. This is particularly felt in the finance department. "Now, what would have taken hours or even days takes just a few minutes," explains Ismail. Essentially, the department is able to obtain an instant snapshot of where they stand. "This allows departments like finance to concentrate on operation and core business objectives," says Ismail, "rather than spending their time compiling data from disparate systems for their reports."
The benefits are not limited to the finance department, of course. The platform also comes with enhanced Recovery Point Objective and shorter Recovery Time Objective. Powered by Business Objects Dashboards, the clinical operational and financial end users of Al Noor Hospitals will be able to access the information they need to strengthen and support their operations.
As the implementation matures, the benefits can be seen beyond the back offices of the company. "Though the improvements may seem subtle to patients, they will make a big difference," says Ismail. For one, auto-ordering will allow pharmacies and facilities to remain stocked at all times. "What that means for a patient," explains Ismail, "is that any pharmaceutical or medical equipment that they need will always be available."
The ability to analyse data on demand, and to share that data across a common platform is paramount for an organisation such as Al Noor Hospitals. "In short," says Ismail, "it is a game-changer. We are committed to the future of data analytics, and we want to leverage this technology to improve the patient experience across our facilities."
Now that this latest implementation is underway, Ismail is looking into the next technology adoption. "We are developing a mobile app," he reveals. Though the app is in its nascent stages, it aims to provide users with the ability to book appointments, search for physicians and, eventually, cut down their wait times. "Not only will they be able to see their closest location, they will be able to determine who has the longest waiting list. In that way, our patients can decide for themselves which facility they will use."
Though it may have been a bit of a jump for Al Noor Hospitals to move from in-house, bespoke solutions to an outside vendor, the risk has paid off. "It is important, particularly in health care, to know what is happening at all times," says Ismail. With new infrastructure that provides real-time actionable information, Al Noor Hospitals can always take their own temperature.