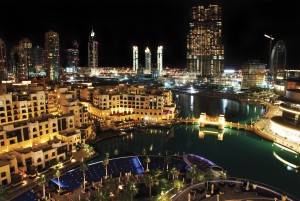 Dubai's Department of Economic Development (DED) has managed something most IT managers only dream of – implement a network and turn almost all costs into opex. Sathya Mithra Ashok writes on how they achieved the feat.
The Department of Economic Development (DED) is at the very heart of Dubai's transformation, organising, regulating, and boosting trade and industry throughout the
Emirate. As well as managing traditional activities, such as business registration, licensing, and commercial protection, DED's mandate is to support the visionary objectives of the Dubai Strategic Plan 2015 by driving economic policy, advocacy, and regulatory reforms.
The end goal is to create an environment where small and large businesses, investors, entrepreneurs, and consumers can coexist and thrive together. eGovernment is central to DED's vision for the future, enabling services to be automated online and delivered faster and more cost effectively.
"DED had three main elements within it – there was the licensing element, the commercial compliance and protection element and then there was the consumer regulations part. Besides that we have our economic studies and research, and that's another pillar of DED itself, where we do research and draft the policies. And this is how we functioned till around 2008, when there came a decree by which more establishments were moved under the control of DED," says Abdullah Hassan, IT director at DED.
The decree gave DED its current structure, whereby its agencies include Dubai Export Development Corporation, Dubai Events and Promotion Establishment and Foreign Direct Investment in addition to the Mohammed Bin Rashid Establishment for SME Development.
According to Hassan, the movement of these agencies to the ambit of DED proved to
be a crucial turning point.
"With these agencies we realised that we would need to change the concepts with which we had been working in IT till then. Suddenly we had these islands of apps – HR, finance, admin and even IT – right across DED and these agencies. There was the drive to formulate a shared services concept, where we centralised those departments' IT requirements. The idea was to provide for some space for specific requirements based
on the nature of the agency, but to centralise most of the services within the group headquarters," says Hassan.
The first part of this effort involved IT understanding the services that could be centralised, and the specific services that would need to be within the control of each agency. The timing of this effort happened to coincide with a larger move of premises that the DED had been planning.
Rapid expansion, with the creation of several new departments for the development of export, retail, entrepreneurship, and foreign investment, meant that DED had effectively outgrown not only its headquarters building but also the three branch offices in Dubai. In response, the agency decided to co-locate all of its management and services teams within
a brand new building situated in Dubai's Business Village. The move also provided the
ideal opportunity to take a step back and reevaluate other strategic priorities.
"Although IT worked alongside HR, finance, and facilities management, as part of a shared services organisation, we still had some way to go in terms of centralising IT management," says Hassan. "The move also gave us a blank canvas for designing a more scalable, energy-efficient infrastructure for the organisation capable of supporting IP telephony, video, and other productivity  enhancing solutions."
The infrastructure at DED was nearly eight years old, and the IT team decided that the move would be a perfect time to re-invest and update the existing systems.
"Initially we had a lot of trouble in deciding whether we would start implementing new systems at the current data centre or put in all new solutions at the new location. We finally decided that we would implement part of the new systems in the current data centre, but leave a majority of the new IT work for the new location," Hassan explains.
Vendor provisioning
When it came to investing in the new systems, DED decided to go with partners that they had worked with, and who had strategically helped them.
"I don't believe in testing new vendors for big projects. I believe in going with partners that we have previously worked with for long periods of time; vendors who are trusted and have consistently delivered for us," says Hassan.
This was one of the primary reasons that DED looked to Cisco for the network provisions at its new premises. Over the years, the two organisations had worked closely together to consolidate and refresh the DED's various networks.
After much consultation and discussion between the two entities, DED finally decided on Cisco's Borderless Network design. Thus DED's new converged IP network supports mobility (via 48 Cisco Aironet 1100 Series access points) and private branch exchange (PBX)-based telephony services, providing employees with a single platform from which they can instantly communicate and access information and tools, anytime, anywhere.
The inclusion of 10 Gb Power-over- Ethernet capabilities, server racks, power and cooling, and firewalls means that in the future the DED can migrate to IP telephony, and additionally, introduce video, quickly and with minimal cost.
"For our servers, we decided to continue using Dell, who are again long-term partners. It is a blade environment, though we have not invested in virtualisation yet. We have got brand new EqualLogic storage solutions for our new locations," says Hassan
DED also wanted a risk-sharing model, one that replaced upfront capital expenditure (capex) with predictable monthly operating expense (opex).
A custom finance solution from Cisco Capital allowed project costs to be spread over five years. At the end of the contract term, DED has a choice of four options: it can buy the equipment (at pre-agreed fair market value), return the equipment (with no financial obligation), continue renting (at reduced rate), or carry out another refresh (either purchasing, or entering into a new agreement with Cisco).
"Like everyone, we are always looking for smarter ways to procure our technology," Hassan says. "Using a capex to opex solution was important, because it meant we could speed-up implementation and deliver all the benefits to users from day one."
Like many organisations, a large proportion of DED's IT budget is consumed by maintenance and support, leaving only a small remainder to be spent on innovation and new projects. "Without Cisco Capital, we would have been looking at a much slower, phased deployment. This would have significantly delayed our plans for the delivery of cost savings and customer service improvements," says Hassan.
The Cisco Capital solution has helped to improve lifecycle management and provided a ready-made asset register and inventory checklist, according to Hassan.
At the end of the technology lifecycle, Cisco Capital can also help with asset recovery, for example, by offering data destruction, recycling, or environmental disposal. In some cases, this approach can reduce total cost of ownership by as much as 5%, as well as providing a much more environmentally friendly solution to placing old equipment in a landfill site.
The deal, which is intended to last till 2015, will enable DED to optimise on its costs and gain additional benefits going forward. Hassan states that ideally they would like to have such agreements with every major vendor that DED is working with but understands that this might take time and will be a possible option only when the budgets demanded for the investment are relatively high.
Moving on
According to Hassan, the move to the premises and the new data centre should be completed before the end of the year. Meanwhile, DED has already centralised some of the services to be shared among the agencies, while most others (like Exchange, mobility solutions and parts of SharePoint) will become fully operational as shared elements after the move to the new premises.
"We are also looking seriously at virtualisation solutions. When we complete the move, we might start working with it in small pockets. After we ensure that it is secure, and that we are getting the right productivity out of it, we will move it to our production environment," says Hassan.
Apart from this, the DED IT team of 26 members have an active application development element, wherein most of the core apps and other necessary software elements are created or maintained within DED itself.
"We believe in gathering the expertise that we require within DED's walls and enabling our IT team to handle it. Most of our apps are created or managed by our IT team. When we do work with third party application providers we insist on on-thejob training from the vendor to ensure that DED's IT team can handle the app in the future," Hassen says.
Besides this, according to him DED is also looking actively at video conferencing facilities, as well as a wider unified communications (UC) project to provide reliable connectivity options.
"We are looking into UC technology quite keenly and considering how it might be of benefit to us. Again, we are considering video conferencing as part of our investments for the future, simply because we are an establishment that deals with external customers on a regular basis, and that involves a lot of travelling. Video conferencing can help us cut costs," expalins Hassan.
The IT team is also working on expanding the online services that it offers its customers, and also ensuring that established services are upgraded, improved and managed effectively.
Hassan states that much of the success of the IT team at DED can be directly attributed
to the support and conviction of the higher management. In fact, he believes that even
the movement of cost for capex to opex with Cisco, while it took time, could not have been achieved without the extensive involvement of top management teams at both Cisco's and DED's ends.
"We are not an isolated department, we are a business enabler. What we do is not for IT itself, it is done for the entire business. So all projects are done in discussion with different departments within the business and at every point we do have to convince them about budgets, and connect every project to the benefits it can provide to the larger organisation," says Hassan.
Understanding the critical nature of the work they do has helped the IT team to structure their plans and excel in all their execution scenarios. For as DED's IT team, so is DED; and as is DED, so will be Dubai.