When planning a getaway, most travellers fantasise of ice cold beverages on the beach, relaxing massages and thowing their smartphone into the ocean. The reality is, however, that modern holiday-makers can rarely ditch their devices completely. When they need to connect, they demand speeds that will get them away from the screen and back on the beach.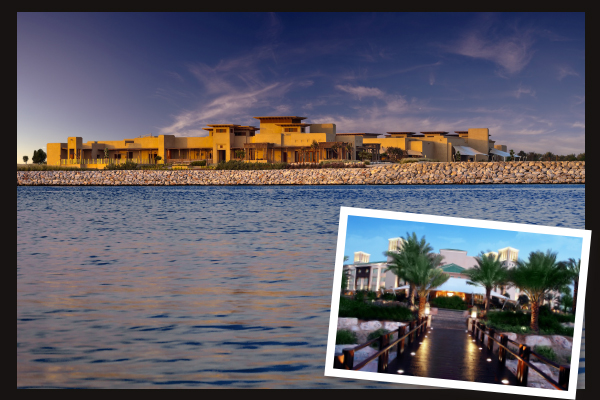 Desert Islands Resort & Spa by Anantara, a haven set on the island of Sir Bani Yas just off the coast of Abu Dhabi, is regarded as one of the most luxurious resorts in the United Arab Emirates. It boasts luxury accommodation that taps into the country's opulent Arabic spirit. The resort offers a range of activities that make for an ideal exotic vacation. Guests can explore nature and wildlife or simply lie back and enjoy Anantara Spa. Desert Islands features 64 rooms and suites, an infinity-edge swimming pool, sprawling nature and wildlife walks and drives, mountain biking paths, a world class spa, and a wide range of activities for children and adults alike. However, the IT department at Anantara know that when their clients aren't busy relaxing, they're probably busy connecting – and that takes a service a bit more fast-paced than a massage.
"Although we had a legacy system in place to offer our guests Wi-Fi connectivity with speeds of up to 2 Mbps, we wanted to deliver a standardised quality of service across all our properties," says Harikumar Nair, Director, Information Technology, Anantara Hotels, Resorts & Spas, Abu Dhabi. "Besides catering to the high-speed connectivity demands of its guests, Desert Islands also needed a robust Wi-Fi network that could support back-end systems and the bandwidth-hungry applications that were being used by the operations team to do their jobs more efficiently."
Nair says that although Anantara had already made strong progress in some areas of its connectivity, but had fallen short in the more modern and complex aspects. "We had already made strategic investments in our wired network infrastructure. However, we were unable to achieve optimal performance across the end-to-end network because of the performance restrictions arising from the wireless portion," he says. Desert Islands had also recently acquired greater bandwidth from its telecom provider and was eager to extend the benefits to its guests. Although the hotel has its regular guests,  periods of particularly high demand during events were problematic.
"As a premier location for events, particularly for the Government and public sector clients, our hotel regularly hosts conferences where hundreds of attendees connect to the wireless network via iPads and smart devices at once. Combined with the huge volume of devices used by regular hotel guests as well as hotel staff, the total number of devices connecting at any one time can put an immense strain on the network. We needed an infrastructure that could handle the increasing volume and density of devices while delivering the consistent speed and performance that our customers and our staff expect," Nair says.
Anantara Group's IT department, owners and other key stakeholders conducted a thorough analysis of solutions from a number of vendors. As an IT veteran, Nair was already aware of Aruba Networks and was particularly impressed by the coverage that Aruba's 802.11ac solution could deliver across the hotel's guest rooms and public areas. Nair says, "While we had a pressing need for a better wireless solution, we pride ourselves on providing the very best quality of products and services. We wanted to take our time to ensure that we selected both the highest quality and most innovative 802.11ac solution available to meet our current requirements and provide a future-ready infrastructure."
Working directly with Aruba Networks, Desert Islands' IT team conducted a proof of concept. The IT team used the PoC for a live conference with over 500 attendees. While the initial time frame set for the project was two months, in order to meet the expected surge in occupancy during the 2014 Eid break, the entire deployment was completed in approximately half the time.
In all, Anantara used a mix of Aruba Wi-Fi Access Points (APs) to cover the guest rooms and 802.11ac indoor and outdoor APs to cover the extensive public areas. To manage all of the APs across the immense property, Anantara's IT team decided to utilise Aruba's 7210 Mobility Controller. The solution allowed Desert Islands to support the highest device densities and maximise Wi-Fi coverage while providing wired-like connectivity.  Aruba's ClientMatch technology in the Mobility Controller eliminates sticky clients by continuously gathering session performance metrics from mobile devices and uses this information to intelligently steer each one to the closest AP and best radio on the WLAN.
The solution has helped Desert Islands monetise its Wi-Fi network. "As Wi-Fi is now viewed as a basic amenity, we now offer all guests a free basic connection equivalent to the maximum bandwidth of our old network," said Nair. "The controller has allowed us to implement and easily manage a tiered system providing the option for a 'premium' service to our guests at greater speeds for a charge. Also, the controller's ability to centrally management all of the APs has drastically cut down the time and effort required for administration."
According to Nair, perhaps the most important benefit of the new network has been its ability to help his team realise the full potential of their network investments. "We are very happy with the new network's performance. Aruba offers plenty of opportunities to grow this solution with the evolving needs of our guests and staff in order to ensure that we continue to deliver the excellent quality of service that our brand is renowned for," concludes Nair.