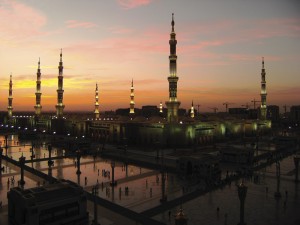 KSA's Jarir Bookstore battled the challenges associated with connecting disparate centres of business by deploying SonicWALL's NSA Series and building secure VPN tunnels to support strategic growth. Pallavi Sharma writes.
With 32 years of experience, Jarir Bookstore, has been a notable player in the Kingdom
of Saudi Arabia's (KSA) office stationery and school supplies market. Having started with a small store located on Jarir Street in Riyadh, the company now boasts over 30 outlets across the GCC countries, mainly in Saudi Arabia, Qatar, the United Arab Emirates and Kuwait.
Established by the Al-Agil brothers who steered the company towards growth and exemplary vision, the company owns one centralised warehouse and three branch offices across KSA alone.
At a point in time the orgnaisation realised that the infrastructure it had was not the right set to support its rapid growth. The initial IT infrastructure across the 30 locations of Jarir Bookstore was connectedthrough a single WAN (wide-area-network), in addition to which, Cisco PIX firewalls and Microsoft ISA (Internet Security and Acceleration) servers were used at the headoffices to control and monitor Internet traffic.
Majid Felemban, IT manager, Jarir Bookstore says, "At the time our Internet Service Provider (ISP) set up an MPLS VPN to better manage and speed up its network traffic. This architecture created multiple points of failure, compounded by very lown bandwidth of 512 KB and high recurring maintenance costs. We tried experimenting with a variety of different mediums such as fibre optic connectivity and WiMAX to increase bandwidth to no avail."
"Our objective was to create a network that could balance the load and maintain multiple connections. We also wanted to use VPN (Virtual Private Network) tunnels assess total cost of ownership (TCO) and the drain created on the bandwidth," he adds.
On the lookout
It was then that Jarir Bookstore began looking for options to help them address this challenge and build an infrastructure that was not only scalable but also cost efficient. NAJTech, Jarir's network security supplier, suggested that instead of investing in purchasing more bandwidth from their ISP they search for alternative solutions that
would give them the capability to do their own tunneling.
"We looked at different solutions but none of them had the complete functionality we were looking for. Sometimes either the load balancing was not to our liking or other times the power usage and financial costs did not make the investment seem worthy," he adds. Jarir Bookstore went ahead to invite bids and trials from applications vendors, until they found the best fit in the SonicWALL NSA series.
According to Felemban, one key consideration for deciding on the SonicWALL NSA series was that the solution reduced TCO by combining VPN with security capabilities. "The real time visualisation option allows IT managers to control and monitor traffic and even reports threats instanteously," he adds.
Jarir Bookstore then went ahead with a proof-of-concept (POC) phase, deploying it across a reasonably big showroom with over 40 users and a variety of point-of-sale (POS) machines and personal computers. The IT team then went about connecting both virtual machines, like NEC's Virtual PC Centre (VPCC), and the non-virtual machines to assess the strength of the connection.
After this successful proof-of-concept stage, Jarir Bookstore deployed the NSA series across their network. "In addition to this, we also decided to purchase our bandwidth and internet connection from three separate data service providers (DSP). This internet service provision was monitored by our previous ISP," he adds.
Success story
Felemban points out that switching overfrom MPLS took quite some time because this needed to be done branch-by-branch, beginning with the head office first, the process took about two weeks. "The entire process required detailed planning before implementation and involved a transition period of one month where the two networks (connectivity) overlapped to avoid any disruptions," Felemban explains.
"The installation was fairly straightforward, very smooth. The solution is working perfectly and delivering on all objectives. The NSA series provides robust performance and application intelligence, in addition to intrusion prevention and anti malware capabilities. Deployed as a next generation firewall, the solution combines multi-core hardware with reassembly-free deep packet inspection (RFDPI) for added protection and performance," he adds.
Felemban points out that with advanced routing, stateful high-availability and highspeed
IPSec and SSL VPN technology, the NSA series delivered security, reliability, functionality and productivity to branch offices, central sites and distributed midenterprise networks, while minimising cost and complexity. "To sustain a VPN, a corporation needs highly redundant and resilient connectivity. The NSA Series served the purpose in terms of increasing the bandwidth and therefore tremendously improving productivity," he says.
Most importantly, Felemban opines that investing in SonicWALL actually helped the company replace fixed firewalls in most locations and get rid of a lot of applications that it earlier needed for internet and network connectivity, controls and monitoring, among others. It helped consolidate the underlying infrastructure and controls, and made managing connectivity a lot easier.
Felemban also points out that the deployment of the SonicWALL NSA Series resulted in a 43% decrease in recurring costs per month, and an increase in bandwidth speeds to 15MB, a 3000% jump from the initial bandwidth of 512 KB.
"The move stabilised our network and gave us the ability to create hotspots of connectivity in showrooms, a move we couldn't have even contemplated with the MPLS network," he says.
"The NSA series deployment has given us the ability to expand our operations much faster and more easily than in the past. The solution allows remote access to our network
through reliable and secure VPN tunnels, making the process of expansion absolutely hassle free and making the deployment a resounding success," he says.
Going forward
Felemban believes that the decision of the small, yet immensely capabale, IT team of 13 at Jarir Bookstore to work with vendors who not only deliver a state of the art solution, but
also have the ability to support the process of knowledge transfer and change management, is a contributing factor to a project's success.
Having successfully deployed SonicWALL at its retail division, Jarir is already working on deploying the NSA Series at each of the eleven branches of Jarir Marketing, the wholesale division, and even has plans to roll out SonicWALL to its investment division, with the intention of connecting all their divisions through their VPN.
Felemban believes that seeing the greater bandwidth capabilities that Jarir Bookstore has at its disposal, in additional to the time and cost efficiencies of these latest technologies, it will only be a matter of time before more companies begin investing in building their own VPN tunnels.
Addressing the future of Jarir's IT investments, Felemban says, "First we have focused on the infrastructure; going forward, in the next few years, we will focus on applications. We have already started working on this."
"The idea behind investing in application projects is to enhance business goals. It wasn't a one track project, we have two directions. One that addresses current issues to stabilise our business operations and the other track focuses on initiatives to benefit the strategic growth of the business. It began with infrastructure because we need a robust back end to make any changes to applications or the network." he explains.
He concludes by pointing to trends like virtualisation and cloud computing as being a long term IT reality, that will not only change the way IT does business but will also enhance business capabilities, the necessity for these investments will vary across organisations and so large scale adoption of cloud computing technology is still a sometime away.