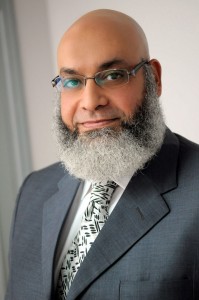 With over 20 years of experience in the field, Medmark Health and Life is a market pioneer in the management and promotion of world-wide medical assistance, health and life insurance services in Egypt.
"Our scope is truly international, as our services and reputation are extended in Egypt and worldwide to active members in more than 100 countries around the globe. We actively market and service a range of private medical insurance solutions to individuals and organisations in the country, providing them with the highest class of international and local medical coverage," says Saad Mohamed, IT unit manager at Medmark.
Medmark is the home of HorizonPMI, a fully-f ledged local private medical insurance plan designed specially for families and organisations in Egypt. Horizon PMI is offered in collaboration with Delta Insurance. International medical assistance products which focus on medical evacuation and repatriation are also promoted and serviced through anexperienced in-house team of medical doctors in collaboration with highly specialised international aero-medical teams, offering added peace of mind for customers.
"Over the past two decades our primary focus and competitive advantage was always the quality of our customer service. Market research conducted by ACNielsen Egypt for Medmark Health and Life in 2005 proves that we are outperforming the market in terms of customer satisfaction. The results revealed that both our corporate and family medicalscheme members had the highest level of customer satisfaction in the market, when compared with other  health cover subscribers," says Mohamed.
Technology has helped give Medmark an upper hand in its dealings with customers and partners, and in establishing and maintaining itself in its current position. Mohammed and his team work diligently in order to ensure that every investment aids the business, and this is the main reason they began searching for an IP-PBX solution in early 2009.
"We were using Panasonic's digital phones, but we needed more than these devices could provide. We wanted the ability to manage a huge number of users. The digital phone solution was not very scaleable. IP phones on the other hand are a very scalebale and reliable solution, and can manage huge number of users without any limitations," says Mohamed.
He adds, "We also required f lexibility in our Interactive Voice Response (IVR) systems, such that we are able to direct customers during the first instance of their call to the right departments with ease. We also required a system that  would provide us ease of management of all these aspects, along with the ability of adding features when we felt the need."
Having decided that an IP PBX solution was the way ahead, Mohamed and his team decided on a Polycom, Asterisk and Digium solution after conducting due diligence.
"We let our vendors know about the need and got proposals for the solutions. We studied all of them and decided on this particular one, because they were very supportive of the technology. It was critical for us that the vendors and partners provided us with adequate support on the technology. We also required full functionality awareness from their end. This was also available in plenty from the vendor. All considered, this was an easy decision for us," says Mohamed.
Step by step
According to Hussam Fawzy of Arkan Integrated Solutions, "When we f irst analysed Medmark's needs, we found that they needed to be available 24/7 without setting up a 24/7 call centre. The system needed to ensure that Medmark had to be reachable 24/7, make sure all calls are received without a change in the working hours for the team."
The implementation was carried out in a phased manner in order to overcome the challenges that might occur out of the deployment. The old system existed along with the new for some time, and training was provided to the different users in order to familiarise them with the new features and to prevent adoption issues.
While the base IP-PBX solution was implemented in 2009, Mohamed says that more users were connected and additional agents were brought onto the solution in 2010.
"The solution has definitely provided us with the return on investment that we needed. It also gives options for additional features, such as video conferencing, which we will look to get into place in 2011," says Mohamed.
With an annual budget that is decided by the end of every year, Mohamed also plans on continuing investments and projects in 2011, that will aid the growth pace.
"With a customer retention level that has never fallen below 95% in the last 15 years, Medmark Health and Life has reached an undisputed leadership position in the international health cover market, and we hope to continue to offer our customers the quality of service they have come to expect from us. Technology is a crucial element of our success and we will continue to invest and use it wisely to forward our aims and provide the best of services to our customers," concludes Mohamed.