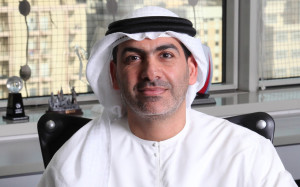 If you live in the UAE or surrounding countries, you recognise the ADNOC logo. The station sign means a much needed rest stop, a fresh tank of petrol, minor repairs or just a reprise from a long journey. However, what ADNOC Distribution customers may not realise is what it takes to keep our vehicles – and more – running.
Much more than a pit stop, ADNOC Distribution supports myriad services in the region, and in the past year, they have been expanding. With new technology in their arsenal, ADNOC Distribution's IT team, under the leadership of Ali Abdul Aziz Al Ali, Vice President, Information Technology Division, is ready to take on the future of transportation.
ADNOC Distribution Company was established in 1973 as the first Abu Dhabi government-owned company specialising in the marketing and distribution of petroleum products. ADNOC Distribution operates a network of service stations and convenience stores equipped with technology that supports fuel, automated carwash, vacuuming, lubricant and tire repair services.
In addition to petrol at its many stations, ADNOC Distribution provides lubricants and other services such as convenience stores and car washes for every day motorists. It also provides all fuelling for any airline flying in and out of the Abu Dhabi International Airport.
Further, ADNOC Distribution manages 18 vehicle inspection units throughout the UAE. With approximately 2600 vehicles registered every day, the program has proven to be one of the most effective inspection and maintenance programs in the Gulf region. Between all of its operations, ADNOC Distribution serves over seven million customers in the GCC.
In short, ADNOC keeps the entire country, and now beyond, with full tanks. However, the company is looking to take on more projects. To fulfil their upcoming goals, it is imperative that IT creates a solid foundation on which to build business. "ADNOC Distribution has changed a great deal in the past year," says Al Ali, "We have been able to fulfil these goals in large part because of our IT strength."
Perhaps most notable for everyday citizens is ADNOC Distributions' goal to provide municipal gas to residential units in Abu Dhabi. ADNOC Distribution hopes to get gas flowing through residential pipes, freeing residents from the traditional gas can. While this is a service that residents of the region have been eagerly waiting for, it does mean an extra burden for the IT department. "We will be handing metering and billing for the project," says Al Ali, "While that is a big task, our department has the infrastructure to take it on."
In addition, the company has acquired a number of new stations in the Northern Emirates. This has expanded their reach and their operations throughout the Gulf. Still, Al Ali is technology will play a big role in supporting this growth in an effective manner.
The thing that is keeping Al Ali and his team so calm during all of the new projects and acquisitions – the cloud and smart IT solutions. "We have been able to virtualise our services which allows us to simply deploy our products to new units," explains Al Ali. This allows new stations to simply take on a "Plug and Play" situation. "Essentially," says Al Ali, "new stations can be up and running in a matter of hours, with the same system and services as all of the rest of the stations that ADNOC owns." What used to take days and even weeks can be accomplished in hours through smart IT technology such as virtualisation and cloud computing.
It is not only the set-up of new stations that has been supporting the new and existing stations owned by ADNOC. "We are also able to upgrade systems throughout the region with a few, simple steps," explains Al Ali. With all systems connected to a centralised system, the IT department in Abu Dhabi can implement an upgrade and roll it out to each and every station in a matter of hours. The result is less down-time, and up-to-date systems from the most rural station to one that sits next door to the headquarters. This centralised administration is key in keeping all services up to date.
The database and application cloud technology has allowed the IT department to create more efficient operations throughout the company. Payroll, for instance, used to take four hours, and now takes a mere 15 minutes. Database response time has improved by 20 times. All this efficiency has allowed business users to focus more on their core jobs.
The robust and innovative IT department at ADNOC Distribution has not gone unnoticed. In 2014 alone, the department won three distinguished industry awards, including the Best Technology Adoption of Oil and Gas Sector from CNME and Best Oracle Cloud Implementation from Oracle Corporation. These accolades are simply a reflection of the company's overall goal of remaining at the forefront of technology in the Oil and Gas Industry.
With all of its new-found efficiency, ADNOC Distribution is able to concentrate on creating a better experience for the customer. With the customer in mind, ADNOC Distribution has taken on a project that is sure to positively affect customers throughout the UAE. ADNOC Distribution plans to roll out new "SMART" programme at ADNOC service stations. This program is aligned with the UAE's Smart Government and Smart Cities vision.
Smart Service Stations will have pumps equipped with an RFID tag that matches to an RFID tag installed on individual vehicles. When those tags come into close proximity, information on type of petrol and online accounts will be communicated to the petrol pump.
Essentially, customers will be able to fill their vehicle without worrying about paying via credit card or cash. The RFID tags simply deduct the amount from the customer's online account. Customers can then track their petrol purchases and top up their accounts via a web application. "We have already rolled-out this project to ADNOC Distribution employees, and there has been an outstanding positive response," says Al Ali.
The IT Division at ADNOC Distribution is also taking on a number of Business Intelligence and Big Data projects. "Rather than assuming which new station needs which services, we can see that through our data," explains Al Ali. ADNOC Distribution can then determine which station needs, for instance, a McDonalds rather than a Subway, or lubrication services rather than an extra car wash lane. "We are doing business in a smarter way," says Al Ali. By knowing their customers, they can optimise business operations and take a great deal of guess-work out of managing new acquisitions and upgrading existing stations.
Most recently, ADNOC Distribution has signed an agreement with Emirates ID. This will allow customers to track their vehicle registration information through their existing Emirates ID card. Vehicle registration will be connected with the individual's card after the vehicle is inspected at an ADNOC owned inspection centre.
In short, ADNOC Distribution is doing all it can to create a more streamlined and efficient service for its customers and its staff. By improving their IT infrastructure, they have been able to take on these tasks with minimal burden to the IT department. "Truly," says Al Ali, "I get fewer calls and complaints these days than ever before – even though we are doing more business and taking on more projects."
The IT department at ADNOC Distribution has proven that technology is truly the backbone of any modern operation. As computing becomes more efficient, the IT team is enabling all part of the business to do what they do best – keep moving forward.