Maintaining the iconic Burj Al Arab's exceptionally high standards of service – which have resulted in it being voted the world's most luxurious place to stay – is no easy task. In order to enhance this guest experience, Jumeirah Group's vice president of IT, Neil Menezes, recently opted to roll-out an upgraded Wi-Fi infrastructure.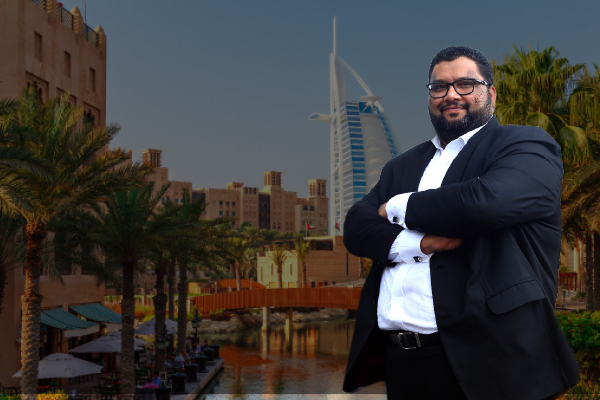 Among Jumeirah Group's array of 22 luxurious hotels across the globe stands arguably the most iconic of them all right here in Dubai; the Burj Al Arab. It opened its doors in December 1999 and is now regarded as a symbol of modern Dubai that can be viewed from almost anywhere along Jumeirah's lengthy coastline. The hotel's private helipad – located 689 feet above the ground – has seen its fair share of attention-grabbing stunts over the years. Roger Federer and Andre Agassi took tennis to new heights when they played a friendly match on the helipad in 2005, and Rory McIlroy concluded the 2011 golf season when he teed-off a bunker shot 210m above ground. Staying at the Burj Al Arab isn't just about the room, the pool or the bars; it's about enjoying the whole "luxurious experience," says the Group's vice president of IT operations, Neil Menezes.
"Based on previous guest feedback, we learned that one of the most important things that a customer looks for when finding somewhere to stay is complimentary Wi-Fi in hotels," he says. "Part of our brand hallmark standards is to create an exhilarating and imaginative experience which will stay with the customer long after they have left us." In order to fulfil this mandate, Menezes was tasked with the job of implementing seamless, wireless connectivity throughout the hotel's sail-shaped structure and surrounding outdoor areas. But it wasn't solely about guests having access to Wi-Fi; the implementation was also an opportunity to improve the entire guest experience by altering the efficiency of certain processes performed by the hotel staff. "Today, it's no longer about having traditional technology; it's about transforming and using what you have in a manner that directly effects the business," he says. "Complimentary Wi-Fi is a commodity service, which means it is an expense to the hotel. As such, we figured that we also needed to benefit from it."
Having used Aruba's services for almost eight years, maintaining the relationship in the transition to an upgraded Wi-Fi infrastructure seemed the obvious answer. "Dealing with Jumeirah in terms of IT security and operations is not an easy task, especially considering the high calibre of guests we have staying at our hotels, so we really sliced and diced the product apart," says Menezes. "Time and time again, we put in requests to customise certain parts of the experience so that we could deliver the best experience to our guests, and Aruba has always been able to deliver enhancements within the product on a constant basis."
The implementation has led to a variety of benefits for both guests and staff at the Burj Al Arab. Previously, guests could be waiting in a long queue at a check-in desk. "Now, we have optimised mobile check-in and check-out services throughout Jumeirah hotels," says Menezes. "The Burj Al Arab is an exception, as there are check-in desks on every floor, where guests are escorted directly to their suites and are privately checked in using tablet devices connected to the Wi-Fi."
There is now also an app for the renowned, top-floor restaurant 'Gold on 27.' Guests are able to make a reservation via the app, and those visiting the Burj Al Arab by car will then be personally greeted at the hotel gates. The app notifies security guards via a tablet when someone who has made a reservation approaches the entrance, "revolutionising the welcome process," according to Menezes. There is also a collection of access points in the restaurant, which have been gold-painted to blend in with the novel design of the room.
The implementation process of over 900 access points as part of the AP-225 series throughout the hotel took just over two months, which included the deployment of APs across the Burj Al Arab's recently built outdoor area, 'The Terrace.' With two pools and a capacity of 900 people, it was crucial that guests were still able to enjoy wireless connectivity in the hotel grounds. "The Terrace is magnificent, and ensuring connectivity outside really shows our commitment to the brand and to what guests want," says Menezes. "The outdoor access points provide excellent coverage in terms of performance and speed, and as there is no bandwidth capping, our guests can continue to enjoy a superior experience with us."
Whilst he maintains that the transition process was "like a hot knife to butter," Menezes admits that the shape of the iconic Burj Al Arab building did present challenges during the implementation. Due to its sail shape, open atrium interior and lack of concrete slabs between floors, connections could easily be interfered with. "We had a very unique challenge because of the building design," he says. "The signalling was getting disturbed by the metalling in the atrium, and I admit it was quite challenging. It took a lot of planning and we spent a long time enabling triangulation of the connections."
One of the first immediate improvements following the implementation was that the Wi-Fi infrastructure can now take on more devices, whilst still maintaining a high level of performance. "Nowadays, individual guests are travelling with at least three devices that they want to be connected, and a family of four averages 10 connected devices per suite," says Menezes.
The new infrastructure has also meant that the hotel can enable business-orientated systems on the network, such as processing credit card transactions on tablets, rather than cellular data to connect to banking outlets. "This flexibility means we that can process the transaction right in front of the guests, and it is all done at their tables if they are in one of our restaurants," he says.
Measuring quantitative data to ensure these new services are satisfying guests is not a top priority for Menezes. "ROI is not something we measure when it comes to Wi-Fi, because it's a hotel necessity and a commodity service that we have to provide. The only ROI we can expect is a smile on our guest's face," he says.
Moving forward, Jumeirah Group hope to continue fulfilling their company slogan: 'Stay different,' and are always looking to get one step ahead of competing hotel chains. "When the Burj Al Arab opened at the end of 1999, it was one of the most technically advanced hotels in the world," says Menezes. "As time progresses, we are constantly on the look-out for new technologies that we can adopt to improve guest satisfaction and really help us to deliver superior experiences. Everything today – especially within our industry – is ultimately driven by technology."