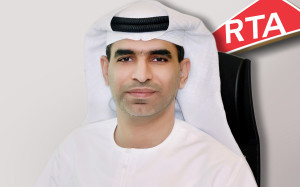 Dubai Taxi Corporation is not a company that is comfortable with the status quo. With five competing taxi companies in Dubai, Eng. Ahmad Khalfan Al Suwaidi, CEO of Dubai Taxi Corporation, realises that they need to provide competitive and innovative services.
Without a doubt, remaining cutting-edge in a competitive market is by and large reliant on the company's IT services. The company's commitment to innovation is evident at their headquarters in Al Muhaisnah. One of the first rooms visible when walking into Dubai Taxi Corporation is prominently labelled "Development and Innovation Room."
With more than 4200 vehicles, more than 9000 drivers and countless customers every day, maintaining – let alone improving – Dubai Taxi Corporation services is no small task. However, the team at Dubai Taxi Corporation is insistent on creating a seamless, streamlined experience for every journey. In one year alone, the corporation's IT section took on 52 improvement and innovation projects to make each facet of Dubai Taxi Corporation smarter, faster and more efficient.
Imagine arriving in Dubai after a long trip abroad, with a stack of work ahead of you and a long, exhausting flight in your recent past. Without a doubt, the last thing you want to worry about is catching a taxi home. To be sure, hailing a cab home from the airport is fairly easy at present, but Al Suwaidi promises more in the future. Visitors and residents of Dubai alike may be in for a treat in the near future when it comes to securing transportation around the city. Passengers of Dubai Taxi Corporation soon will be able to connect to the Internet via on-board WiFi, view information on surrounding points of interest through built-in smart screens and pay at the end of a journey instantaneously with NOL cards, credit cards or cash.
Currently, Dubai Taxi Corporation customers can already see marked improvements in the company's services. Released earlier this year, the Dubai Taxi Corporation "Smart Taxi" app allows passengers to book a taxi with the launch of a simple smartphone app available in the Android and Apple stores. The app allows the customer to calculate the length of an upcoming trip and even the estimated taxi fare. This takes a great deal of guesswork and anxiety out of waiting for a hired car.
Also, those attempting to hail a taxi on the street can now see if a vehicle is booked via large, scrolling banners that read "Hired," or "Vacant." This addition may seem small, but to anyone who has squinted into the sunlight trying to determine if a taxi is carrying passengers, the improvement is a big help.
Many of Dubai Taxi Corporation taxis currently roaming the streets of Dubai now come equipped with GPS capability, eliminating much of the guess-work that comes with navigating Dubai's roadways.
A number of these improvements have been implemented on Dubai Taxi Corporation airport taxis. "Taking a taxi is often the first transaction that a visitor to Dubai has in the city," says Al Suwaidi, "First impressions are important, and we take our city's image seriously." These improvements are just the beginning, he promises, of a process that has been in the works for years and will result in happier customers and employees.
The improvements to Dubai Taxi Corporation fleet of vehicles is not limited to flashy technology consumed by the customer. Every department in the company has expressed a need to be "smarter." "A good experience for the customer begins with a happy employee," explains Al Suwaidi. To that end, the Human Resources Department at Dubai Taxi Corporation has, with the help of the IT department, streamlined many of its services.
"For example," explains Al Suwaidi, "a Dubai Taxi Corporation driver can forgo standing in a long line at our headquarters just to receive information on his pay slip. Now, employees can simply text the message "PS" to our HR portal, and receive, immediately, a detailed payslip via SMS." Employees can also request leave balance or shift changes. "We want to respect our employees' time and make it as easy as possible for them to manage their employment with us." says Al Suwaidi.
Internal improvements have also been made in the Operations Department early this year as well. Dubai Taxi Corporation won the prestigious CIO 50 award for their spare parts barcoding system. All spare parts are now barcoded – the system tracks all parts with information including their location, request receipt, issues, transfer and return. The system is managed using mobile devices and is integrated with an ERP system. This allows employees to track the spare part inventory in real time, and eliminates bulky paperwork and costly waiting times.
This new system enables uninterrupted data collection, data validation, and transaction submission as part of the work process. The result is evident in the Maintenance Section and in the warehouse as well as with with field personnel who can now complete their jobs while data is seamlessly updated in Oracle's JD Edwards EnterpriseOne.
Prior to the barcode implementation project, Dubai Taxi Corporation was seeing some errors in spare parts requests. Now, errors have been eliminated, allowing the corporation to focus more time on what is most important – the customer experience.
Indeed, projects such as the new barcoding system are bound to come with some notable resistance from employees – as they say, old habits die hard. "Many of these projects require the commitment of employees to embrace change," says Al Suwaidi, "We have seen with proper training that employees can see how these implementations will improve their work lives, and it is easy, then, to get them on board."
To be sure, the transportation business has changed drastically in the past few years. No longer are customers satisfied with simply hailing a taxi on the street and hoping for the best. As customers and employees develop higher expectations, Dubai Taxi Corporation responds with improved services and systems. "We are associated with the Dubai Government," says Al Suwaidi, and moreover, we know that we are an important part to the impression that people have of the city." With that kind of pressure, it is no wonder that Dubai Taxi Corporation takes its systems and processes – for drivers, employees and end-users alike – very seriously.
The company has already improved its systems, and there is more on the horizon. "Who knows," says Al Suwaidi, "perhaps in the future we will have driverless taxis. Until then, we are going to do everything we can to keep our community of drivers and customers satisfied and make every trip as pleasant as possible."