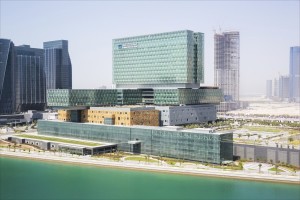 The Abu Dhabi landscape has undergone a number of changes over the last couple of years, but perhaps none more striking than the addition of the enormous Cleveland Clinic Abu Dhabi building. Located on Al Maryah Island, construction of the clinic has recently been completed, and is set to open its doors to patients in 2015. Of course, there is a great deal of work to be done to lay a strong foundation before the clinic can open its doors to the first patient.
The 364 – expandable to 490 – bed facility will be an extension of the Cleveland Clinic headquartered in Cleveland, Ohio. The aim of the Abu Dhabi clinic is to offer the same standard of medical care as their home clinic, while addressing the specific needs of the community in a culturally sensitive context.
Cleveland Clinic Abu Dhabi is the result of a partnership agreement signed in 2006 between Mubadala Development Company and Cleveland Clinic. It will house five clinic floors, three diagnostic and treatment levels and thirteen floors of critical and acute inpatient units. The hospital is designed to achieve LEED Gold certification, as well as a Four Pearl rating from the Abu Dhabi Urban Planning Council's Estidama Pearl rating system.
As impressive as the exterior of this new health facility is, it is what is slated to be inside that is truly amazing. Not only will Cleveland Clinic Abu Dhabi be one of the largest medical facilities in the Middle East, it will be one of the most technologically advanced.
Chief Information Officer Michael Reagin heads up the IT team at Cleveland Clinic Abu Dhabi and is charged with managing the IT infrastructure that will allow the clinic to leverage the latest in health technology and provide world-class care to its patients. Cleveland Clinic Abu Dhabi is set to be unparalleled in patient services and the use of technology. "There are a lot of firsts here," says Reagin, "our levels of automation and integration are more advanced, allowing us to focus on patients and business."
"The benefit to being a part of the Cleveland Clinic system as well as a Mubadala company," says Reagin, "is that we can leverage all of the knowledge and business processes of Cleveland Clinic and implement them here." In this way, Cleveland Clinic Abu Dhabi will be able to provide the world-class healthcare that the Cleveland Clinic system is known for.
The Cleveland Clinic Abu Dhabi building itself will be Smart, utilising 53 building management systems, and on a truly converged network. Elements such as environmental temperatures and power will be centrally managed. The ability to control building systems in this way will allow for more streamlined management, and will ultimately create a more enjoyable patient experience.
The automated processes, of course, are not limited to building controls. "We are automating every business process possible," says Reagin, "We are doing away with the traditional rooms of filing cabinets." The healthcare industry, of course, creates a great deal of records and images, which have, in the past, been collected, stored and archived using paper-based systems.
In an effort to cut down on paper – though they admit that going completely paperless is not exactly realistic – Cleveland Clinic Abu Dhabi will use the latest in EMR and EHR systems. What sets the medical record keeping systems apart at the new clinic will be the fact that they are completely vendor neutral. "A patient can come to us with their images on a disk, taken from another healthcare provider, and we can archive them in our system," explains Reagin.
Automation will continue throughout the patient experience. Even the pharmacy will be automated. "We will have a dispensary system that is 95 percent automated," says Reagin. The clinic boasts an impressive 120 integration points, and even communication will be hands-free utilising Voicera technology.
Mobility will also be an integral part of Cleveland Clinic Abu Dhabi's technological landscape. Patient beds will be equipped with a tablet. With it, they will have access to their room's environmental controls, televisions and even be able to order their meals. In addition, healthcare providers at the clinic will sport chip-enhanced badges. These badges will allow caregivers to have access to their patient sessions on any device.
Additionally, virtualisation is already an extremely important tool in the belt of the facility. "We are 100 percent virtualised," says Reagin, "We don't have to worry about creating additional components and we reduced our power expenses by 30 percent." To manage all of these components, Cleveland Clinic Abu Dhabi maintains two data centres. "We have one centre on-site," says Reagin, "and another Injazat hot site off-premises."
Cloud computing and virtualisation certainly can create more a more agile infrastructure, however, with sensitive information such as health records, security is always of utmost concern. Cleveland Clinic Abu Dhabi has made data security a priority. The clinic will have tight perimeter security and end-point security systems as well as data encryption and IPU single sign-in technology. They will use a defense-in-depth approach with multiple data security layers.
With all of this cutting-edge technology in place, one might worry that the patient experience may be compromised. Reagin explains how the clinic will maintain its positive bedside manner – "We have a high level of touch from our caregivers. The technologies that will be available to our patients to enhance their stay are supplementary – not required. If a patient is unsure as to how to use their tablet, they can still always call a caregiver to assist them. We will provide superior patient care."
The technology leveraged by Cleveland Clinic Abu Dhabi may be new to some caregivers and physicians at the clinic as well. The chip-enabled badges are only one example of how the physician experience may change. Caregivers will also have the ability to video conference with their peers in Ohio in real time. These new systems may require a bit of change for Cleveland Clinic Abu Dhabi employees. "We have training currently in process," says Reagin, "and much of our staff has had experience at the Cleveland Clinic facility in Ohio as well.
The new technologies at Cleveland Clinic Abu Dhabi have allowed the administration to rethink the very structure of the IT team. Instead of one, centralised team with general specialities, each hospital department now has an IT team with training that is unique to that department. "For example," says Reagin, "the cardiac department has its own cardiac IT team that is versed in the needs of that department." The intended result of this new look at team structure will be IT teams that are more specialised and more in contact with their departments.
Cleveland Clinic Abu Dhabi promises to be an outstanding addition to the healthcare landscape in the region. With state-of-the-art technology and world-class care, the new building is set to house some of the most sought-after care in the Middle East. Not only is the group rethinking how technology is used in healthcare, but also how technology services are provided within the hospital itself. "There is a library of business processes that we are using," says Reagin. Even before the clinic has opened its doors, it is already setting a new standard for care.