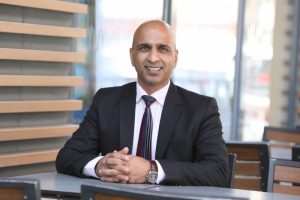 Instantly recognisable, the 'golden arches' of McDonald's make it one of the world's most powerful brands. With restaurants in 120 countries across the globe, the firm is synonymous with household favourites including the Big Mac and its French fries.
What many don't realise, however, is the level of technology that goes into making this broad appeal possible. With the firm's UAE operations encompassing 156 restaurants, 120,000 daily transactions and 4,500 employees, director of information systems Prakash Rao always has his hands full. All of the company's national IT is centralised to its Sharjah HQ, where Rao is based, and it continues to be an essential pillar of the company's products and services. "IT is now a differentiator at McDonald's," he says. "It's not a support function, but a business unit."
Now in his 19th year at McDonald's UAE, Rao has developed a strong affinity with the company, and has made it his professional mission to have an inside-out knowledge of business operations. Prior to undertaking responsibilities for technology five years ago, Rao spent "10-12 years" working in operations at the company. This strong grounding has given him a clear understanding of what technology must deliver. "I understand the restaurant managers' pain points," he says. He is acutely aware that the company's success has largely been built on people. "McDonald's believes in longevity, and is a very operationally-driven brand," he says. "The management is very supportive of people."
Rao and McDonald's UAE are committed to providing the "experience of the future" to customers, and the company took a huge step in this journey when it launched its delivery website – one of the first regional restaurants to do so – mcdelivery.ae four years ago. "We want to be able to reach customer's in their homes, and for them to be able to easily reach us," Rao says. McDelivery is already hugely popular across a range of Asian countries, but is currently not offered in most major European markets, and is only available in Manhattan and Virginia in the United States. Roughly 6 percent of McDonald's UAE's business is done through online delivery orders, representing success in the digital realm to date. Of the 156 operational restaurants within the country, 60 offer a delivery service.
The IT team has worked behind the scenes to optimise this service, and ensure that delivered products are kept as fresh as possible. One of the biggest challenges McDonald's UAE had faced was the country's PO Box system and address grid, which often presents difficulties for drivers to pinpoint exact delivery locations. This means that deliveries would not always arrive in optimal times. "We created a system whereby deliveries are only brought to customers within a 7-minute journey – as opposed to within a particular distance," Rao says. "We created a grid system for each restaurant that determines which locations fall within this bracket. We don't want an order to spend 20 minutes on a bike before it reaches a customer."
Along with McDonald's UAE's customers, Rao is also tasked with ensuring staff within restaurants can do their jobs as efficiently as possible. "In many cases, it's a question of shaving seconds off various processes," he says. "With the sheer volume of transactions that go through our systems and customers that pass through our restaurants, these seconds become critical to our business." The volume of monitors within the kitchen can make a huge difference in delivering a smooth back-house operation. "Five years ago, we would only have one or two screens in our restaurants," he says. "Now we have 15-20, which helps to make the production line as accurate and fast as possible."
The IT infrastructure available to each restaurant is also in good shape. Each restaurant features a server for greater redundancy, while 130 of the country's restaurants feature a managed MPLS network. Free Wi-Fi is offered to customers, meanwhile. "We're far from stingy with our bandwidth," Rao says. "It shows, because our customers are very happy with the service." The software available to each restaurant is also on point. Rao has installed a service desk across every restaurant and business department, which allows direct communication with head office for any IT issues that are faced. "This has drastically cut resolution times," Rao says.
Rao's personal commitment to McDonald's and its staff has manifested itself in the training he has encouraged within the company. He has designed a series of workshops that give restaurant staff the IT skills needed to ensure restaurant operations continue to run smoothly if technical faults occur. Restaurant managers undertake 24 annual training sessions, including those in IT, and Rao's training plays an important role in the program. "The company is all about training, and we know that it's good for business continuity," he says. "For example, if a screen breaks in the kitchen, our staff know how to replace it. The company's IT skills are strong across the market, and operations knows IT well."
He is an avid believer that IT staff – and employees across the business – must also have a comprehensive understanding of McDonald's UAE's operations in order to provide true business benefit through their respective roles. "I encourage my team to spend half a day per month in our restaurants," he says. "Every member of our IT staff has to spend a month's training period in a restaurant before they even work in our offices."
With 85 percent of McDonald's UAE's sales coming from within restaurants, delivering a stress-free dining experience has always been a priority for the company. Peak times inevitably lead to ordering queues, and Rao realised this was a customer pain point that could be eased with the help of technology. He oversaw the introduction of order-filling kiosks, which allow customers to order their food with higher levels of personalisation. "This means they can now customise their meals while not having to queue, and then collect them from the counter" Rao says. "Kiosks have helped to enhance the customer's perception and experience. The interface looks like a big iPhone. We have a duty to make sure our restaurants look modern so that people return."
In line with this ease of service, a clear vision for the future has also been laid out by Rao and the company. "We want people to be able to sit at a table and order their food from an app, and for it to then be brought to them," he says. "We currently do table service, but it's a case of personalising that experience." Rao is also keen to enhance McDonald's UAE's mobile app. "I'd like us to reach a stage where the app is even more personalised, and suggest offers for customers," he says. "It's all about providing the experience of the future."