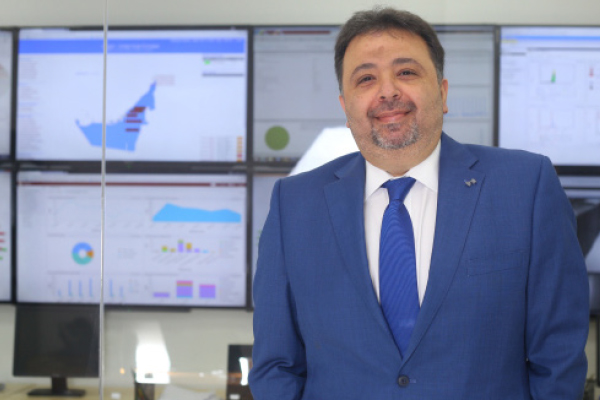 Compelled to propel the bank into the digital age and make it a technology beacon for the northern emirates, Ajman Bank sought wholesale changes in its data centre to enable the young organisation to deliver on its long-term goals.
When Abdul Rahman Jaroudi set out to make wholesale adjustments to Ajman Bank's IT infrastructure, he never had token changes in mind. The head of IT had ambitions to build the "largest" co-located data centre in the north of the UAE, and knew that precise strategy and execution were needed.
Established in 2007, Ajman Bank is a relative newcomer to the industry. The first Islamic bank incorporated in Ajman, its shares were listed on the Dubai Financial Market in February 2008 – with the Government of Ajman owning a 25 percent stake – and the Bank officially opened for business in 2009 from its two branches in the emirate. In the last few years, Ajman Bank has thrived, and now has 11 branches across the UAE, with more in the pipeline.
Jaroudi believes that the company has already proven itself to have been a formidable addition to the market in its short history. "Our infancy coincided with the last financial crisis, and the fact we remained stable throughout that and in its aftermath proves that we are here to stay," he says. "Compared to some of the other banks in the UAE, we are relatively small, but we want to create a unique bank with unique services. When it comes to technology, we don't just want to deploy state-of-the-art solutions, but also original concepts."
Jaroudi likens the Middle East's transition to being run by digital businesses as a "journey", adding that the region is showing encouraging signs in its development. "Speaking broadly, Europe may be 70-80 percent complete in its journey to become digital, while the Middle East's transition is only 50-60 percent complete," he says. "That being said, this part of the world is certainly moving on the right track."
He goes on to add that without the right foundations, first-class technology is a mere pipe dream. "The strength of a country's overall infrastructure – as well our banking and IT infrastructure – is important in making all our technology ambitions a reality," he says. "If you want strong technology, you first need strong physical and IT infrastructure."
In the midst of this change, it is important for a bank to find a compromise between delivering modern technology for its customers, as well ensuring that an all-important human touch is not lost. "We don't think it is necessary to over-engineer our products," he says. "It is more a question of innovating services that align with the Bank's vision. Some banks only believe in face-to-face contact with customers, which contradicts the digital school of thought. We need to find a bridge between these mentalities."
Compelled to grow the company's IT infrastructure in order to power this change, Jaroudi sought to instigate wholesale changes. The most obvious place to start was the company's data centre, which was wrought with unnecessary complexity. Technologies provided by a range of vendors were hardly conducive to smooth IT operations. "We had a lot of different flavours from a range of big companies, which didn't help the environment," Jaroudi says. "We were consequently void of a single vision or roadmap." Ajman Bank had used a separate premises for its data centre, and would look to smoothly shift sites, with minimal disruption to its business operations.
Jaroudi and Ajman Bank began the POC process, and one vendor grabbed their attention in the early stages. "We visited Schneider Electric's offices and innovation centre in Paris, and were immediately impressed by the end-to-end monitoring capabilities they could provide, as well as their understanding of our needs," he said. "More importantly, it was clear that they had excellent support in the Middle East, so we wouldn't be dependent on their staff who were overseas."
Beginning work in January, Jaroudi and Schneider Electric began the overhaul with zeal. The new data centre was built at sea level, and designed with flood control, fire detection and suppression features. The implementation comprised 220 racks, each with a capacity of 10 kilowatts, and close control units of more than 1800 kW, and an uninterruptible power supply of 2400 KVA with full redundancy. In order to manage power density, the facility would include robust heating, ventilation and air conditioning systems. Recovery software and storage space were also included. Schneider Electric also installed a holistic network architecture from its StruxureWare for data centres suite, encompassing its data centre infrastructure management (DCIM) solution.
Work was completed in under six months, and Jaroudi has been delighted with the results. Shifting its data centre to the company premises has already proven to be a sage move, allowing Ajman Bank to realise a huge cost saving as well as enhanced uptime and systems availability, providing better support to the business. "The data centre now really feels like it is ours," Jaroudi says.
Partnering with a single vendor has also removed complexity from Ajman Bank's IT operations, allowing them to retire dated hardware in the process. "This consolidation has provided us with a single point of contact and technology," he says. "Proper sizing and assessment has enabled us to make a huge cost saving by removing the need to inflate systems and capacity."
The addition of a DCIM solution has added huge value to Ajman Bank's operations. "It's allowed us to easily monitor and track every component of the data centre through a single dashboard, which is a huge advantage" Jaroudi says. "That means that we can be proactive in our decision-making, and initiate action much earlier than we could before. It's made a huge difference to our network operations centre."
One of Ajman Bank's overriding long-term goals is to build a sustainable and socially responsible business. Their association with Schneider Electric has made inroads in fulfilling this mandate, reducing the company's carbon footprint in a number of different areas. The new data centre has saved "35-40 percent" of Ajman Bank's data centre power costs due to the insight provided by the DCIM solution. "That's a huge difference," Jaroudi says. Prior to the changes, Ajman Bank had printed "200,000" sheets of paper per month across the business, but that number now equates to their annual total due to faster IT operations that have resulted from a more powerful infrastructure and less dependence on paper-based processes.
Looking ahead, Jaroudi believes Ajman Bank is now well-positioned to fulfill a series of other technological ambitions as a result of the work. "We're considering deploying a modular data centre now," he says. "We're also now better positioned to consider the deployment of a private cloud, while our ambitions to introduce more branches and ATMs will be closer to reality."