Driven to develop its diversified business, transport and logistics provider Al Sahraa Group has developed in-house software to provide better accountability of its processes, which has enabled the firm to build a pair of sleek customer-facing apps.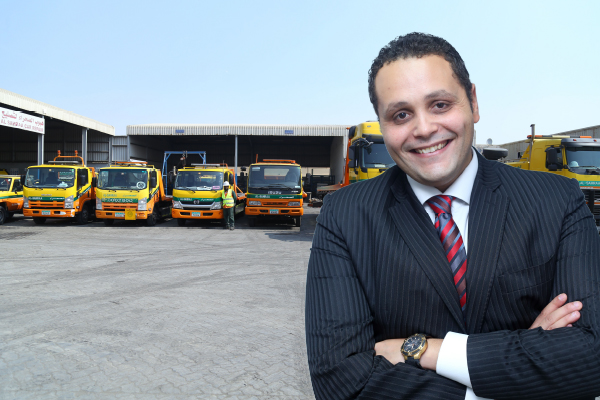 Founded in 1968, Al Sahraa Group has grown into one of the UAE's largest transportation and logistics companies, with 1,000 road vehicles and a total of 2,800 pieces of heavy industrial equipment – including cranes, bulldozers and tanks – in its fleet.  The Group now has over 3,000 employees and 35 companies across its umbrella, also operating in the construction and metal industries.
The company is currently involved in a series of large-scale projects, including the development of vital road infrastructure in Fujairah, as well as army base construction and logistics. With a series of complex processes in its operations, the demands placed on technology within the company are always testing.
Shortly after joining the company as CIO just over a year ago, Ahmed Askar set about transforming the IT department by working alongside other senior influencers within the organisation. "It was important that I involved managers who understood technology, and how we could use it to upgrade the business," he says. "There were a number of objectives that I had to address. From an early stage, I earned the support of our CEO, which has proved to be crucial."
One of Al Sahraa's key mandates at the time was to increase its ability to win more business from the public sector. "Al Sahraa is already the sole logistics provider to the UAE army," Askar says. "However, our chairman also made it clear that he wanted us to reach a level where 90 percent of our business was with government clients."
Having conducted a series of assessments as to where Al Sahraa's IT could be improved, Askar discovered one flaw that had to be addressed. "There were a few issues which could be linked to the existence of a gap between our CRM and ERP systems," he says. "A range of departments had gaps between their vision and targets, and the actual reality of what was being delivered. In many cases, it was difficult to identify why effective results could not be achieved."
With KPIs and workflows not sufficiently managed, Askar sought to develop Web-based software that could monitor them across departments, as well as keeping track of operations. 'Netlook' – the software developed and successfully deployed by Al Sahraa – has already proved to be a fantastic addition both internally and from a customer service perspective. "Contact from e-mail, phone, web portals, forms and chat creates tickets, verifies SLAs and sets timelines for task completion," he says. "This has created a concise ticketing system that ensures tasks are completed in a timely manner. This has allowed us to evaluate our KPIs and provide clear reports for each activity, empowering us to deliver on Al Sahraa's objectives."
Askar believes that the solution has given Al Sahraa greater transparency to ensure customers are not left wanting. "The key word that sums up Netlook is 'accountability,'" he says. "We need to know how to define targets and evaluate employee behaviour."
Another major benefit that Netlook has brought is the ease with which senior management figures can access influential data. "It's important that we build a mobile outlook," Askar says. "It's essential that our CEO has visibility of this information from her mobile device, and that her experience is straightforward."
The back office software developed by Al Sahraa's IT team has enabled the company to look at developing a series of enhanced front end services. Chief among these is a duo of smartphone applications that are designed to provide a series of vehicle services to customers, including maintenance, oil changes and towing. Interestingly, the service accommodates a broad range vehicle , including heavy vehicles, boats and jet-skis.
Launched in October, Al Fazaa is the "VIP" application of the pair, which entitles users to unlimited vehicle services for one year after they have paid a lump sum. The Al Sahraa application, meanwhile, comes free of charge and offers similar services to Al Fazaa, and is due to launch in December.
Netlook has played an important role in the roll-out of the apps. "Improving our back end processes has given us greater understanding into customer needs, and has improved our ability to respond to them as quickly as possible," he says.
Both applications will allow users to send service requests, and then be contacted by staff at Al Sahraa's call centres if further details are required. Askar believes that the ease of use will be a huge selling point for users. "Mobile apps and the Internet are the easiest ways for customers to request services, which we can deliver in just three clicks," he says. "All we need to know is a customer's location and the service they require, on top of their details, which they will have already inputted."
Askar has also added the option for customers to schedule a series of services for times that suit their busy lifestyles, including vehicle collections. "Sometimes it isn't convenient for customers to have their car collected immediately – they may have recognised a fault but still need to get to work," he says. "This service makes their life easier in that regard."
Already enthused with the response to the service, Askar believes the UAE is a market that is ripe for VIP vehicle services. "We even offer towing for sports cars, which are lower – and so require special treatment – than regular vehicles."
Although it is hard for Askar to fully measure the merits of the two applications, he is highly confident that they will prove to be a significant value-add for Al Sahraa Group. "There's no doubt that they will provide substantial ROI for the company," he says. "We are the only local firm to be providing these kinds of services from smart applications."
Reflecting on his year as CIO, Askar feels he has already offered a positive contribution to Al Sahraa. "I think we've already made a lot of progress both in terms of our infrastructure and security," he says.