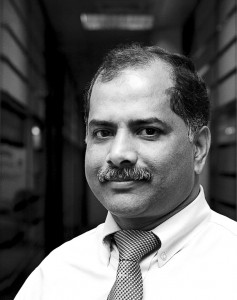 When AW Rostamani, the family owned conglomerate, decided to set up a disaster recovery (DR) site, it found its partner of choice in Emitac Enterprise Solutions (EES).
Disaster recovery (DR) is one of the most crucial considerations for growing organisations in the Middle East. And if you are of the calibre of AW Rostamani (AWR), then all the more reason that you feel the need for a reliable DR site.
"AWR is a family based conglomerate. We have a diversified business portfolio. Our flagship is the automobile business. Even in this business we have spread across the region. We are in the UAE, India, Iraq and KSA. We represent multiple brands and are into property, real estate, manufacturing, job contracting and IT consulting. IT in the group is a centralised function. Every single requirement of the business goes through the group's IT department. This is the same even for international businesses, where we have focal points in various locations. All hardware and software requirements are centralised," says Sebastian Samuel, group IT manager for AWR.
IT being a centralised function, strategic planning for the functions are done in co-ordination with the business units. All business requirements are translated to IT initiatives, an action plan is created and this is presented to the respective business owners. This is then submitted to the board.
"Actually we do our planning starting from September and end of November we finalise the strategic plan and submit to the board. The board takes about a week to sign off on it. And once finalised the whole year the plan runs. We have our monthly performance reviews with business owners, and quarterly reviews with CEOs and board," says Samuel.
The IT team follows a chargeback model with the business units.
"We communicate two-kind of expenses. One is direct cost on their own IT-related procurement. This could be hardware or software, and it is executed through the group procurement department. Operational expenses are allocated based on a formula that i agreed-upon with the various CEOs. Upfront we will communicate the total cost on IT and most of the time we will have some sort of savings that will be credited back to the department. We work on a 100% chargeback model," says Samuel.
AWR is one of the few organisations in the Middle East that has enjoyed a year-on-year increase with its IT budgets.
"The organisation is on a growth path and we have been consistently getting more funds from the board to roll out more initiatives. We are called strategic partners by the business. IT is considered crucial to the business and there is extensive support from the management. We report not to the business heads, but to the owners directly. For the last few years we have been directly reporting to the vice-chairman. He considers IT a strategic asset," says Samuel.
DR way
Considering all the support that the IT team was getting in the organisation, it yet took the team two years to get the final approval for its DR project.
"For two years, whenever the project was mentioned to the board, they failed to consider it as priority. So finally we did a business impact analysis and estimated the criticality of IT to each unit. We came up with the business impact per day – that is the financial impact with IT loss per day. We presented this to the board, and then in late 2010 we got our approval," says Samuel.
Once the approval was received, Samuel had no doubt that AWR would be working with the company that they had been intimately discussing the DR project with for two years – Emitac Enterprise Solutions (EES).
"We have been working with EES for years. Our primary data centre is built on HP hardware and they are HP partners. We had been discussing this project with them as well, and apart from just the hardware, they had come up with a comprehensive DR management solution that is not just a simple replication solution. This management solution also provides reporting and dashboarding for meeting SLAs on replication and business continuity (BC) management," says Samuel.
The DR management solution EES and AWR chose was Sanovi. Working together the firms set up the entire DR site, including all the infrastructure along with real-time mirroring, monitoring tools, recovery management and replication was completely in just about six months starting from January 2011.
And according to Samuel, during the entire process, there was not even a single escalation matter to be handled. Much of this can be attributed to the way in which teams planned for the project.
Samuel says, "We had our implementation methodology, which is based on project management and enterprise architecture-based approaches. We had an agreed plan for the project, regular task force meetings with project managers from both sides. We also had a proof-of-concept time period to make sure the solution was valid and that it worked. That is how we managed the entire project."
Haneef Rabbani, senior account manager, enterprise sales at EES states, "Regarding the BC solution we were in discussions for over two years. We have been combining lot of solutions based on hardware and apps, and we were in touch with IT team of AWR and devising solutions till the budget was approved.  We narrowed it down to Sanovi, and technical heads and project managers from both sides were involved. There were regular review meetings between the teams and proper escalation metrics were in place though fortunately they were not used. However, all these practices were in place."
He continues, "I would commend the project planning. We had our timelines down in perfect sync. The hardware arrived in time to be implemented, and once that was delivered we were in touch with the AWR team constantly. Some people were flown in and everything was in place before the start of the project itself. We were prepared for all possibilities."
EES also ensured that there was a proper knowledge transfer to the client to enable running success of the implementations.
"When we take on any projects there is always a training-cum-knowledge transfer session at the end of the project. So when a project is finished we give complete sign off document to the customer, which contains all configuration codes at the site, the users who are managing the project are trained and a proper knowledge transfer is done. Only then is a project signed off," says Rabbani.
Samuel adds, "One big difference from a traditional project is that both of us had responsibilities. To reduce overall cost of the project, we identified areas where the AWR team could contribute early on in the project, and told the EES team that there would be certain areas of the project that we would take care of internally. Both parties were therefore responsible and this also helped us adopt the technology more easily. It was not an end of project knowledge transfer – it was an ongoing exercise between us."
AWR remains extremely happy with the work that the EES team did for them and believes that the project was a grand success because of the superior work delivered by the partner.
For now and beyond
Besides the DR project, AWR also performed a major upgrade on storage and also invested in a corporate performance management and GRC solution.
According to Samuel, the GRC project was a direct initiative by the vice chairman of the company. One part of it was a solution enabled AWR to put in place a corporate-level performance management solution that worked on the balance score-card methodology. The company chose an Hyperion solution, and integrated tools for financial and budgetary controls.
The other side comprised choosing and implementing Mega GRP Truth, which helps AWR to document all business process related risk and link an action plan to these. The solution also provides division heads with a risk heat map, so they can understand where inherent risks exist and the incidents that have taken place pertinent to the risk.
"In 2012, we are looking to upgrade our ERP platform to the latest version of Oracle – that is Oracle 12. We are modernising our hardware for this as well, and are involved with EES for the same. We are looking to adopt the Oracle Fusion apps for some specific areas in the cloud computing model. We are expanding geographically and our business needs are growing. These are a few of the major projects that have been approved and initiated for next year and we are finalising contracts with vendors for these," says Samuel.
According to him, the IT team looks for technical know how, the vendor's own roadmap and product evolution before choosing them. The 38- member IT team are proud of their business saviness – and state that no decision is taken without adequate consideration of the business needs and the future goals of AWR.
One decision though they are sure of – that they will be working with EES again in their future ventures.