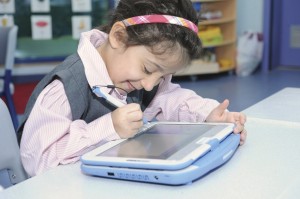 The Abu Dhabi Education Council (ADEC) is investing in multiple technology deployments and upgrades in a bid to secure the government's 2030 vision of creating a leading knowledge economy.
I
n September of 2005, the government of Abu Dhabi took a definitive step in its journey to take its place in the world as a leading knowledge economy. Under the leadership of His Highness Sheikh Khalifa Bin Zayed Al-Nahyan, the UAE President, the Supreme Commander of the Armed Forces and the Ruler of Abu Dhabi, the government listed the establishment of a strong educational framework as instrumental in meeting the development goals of the emirate.
So the Abu Dhabi Education Council (ADEC) was born. In its role, the council oversees the development of education and educational institutions through the implementation of robust educational plans and policies and enhanced support services.
ADEC drives development initiatives through state-of-the-art technology deployments across all education sectors, including both public and private P-12 education, and higher education roughly amounting to 270 schools across Abu Dhabi, Al Ain and the western region of the UAE.
Mohamed Younes, ICT director at ADEC says, "The IT budgets at the council are intimately linked to our IT strategy, which is aligned to our business strategy. Our ICT strategy has 47. Each strategy has been scoped, budgeted and priced based on current market dynamics and technology trends. Suffice it to say, that the higher management at our organisation and the larger government level understands the need to invest in the latest technology to enable productivity and efficiency in addition to establishing a robust learning environment for the emirate's growing student body."
According to Younes, ADEC has recently completed phase one of its infrastructure project focused on provisioning an end to end structured cabling system in addition to wireless connectivity to enable secure and reliable access to critical information and applications on a centralised network.  As part of phase one, ADEC has successfully deployed this project across 210 schools and intends to roll it out to the remaining 60 schools very soon.
The infrastructure project is primarily based on Cisco's Borderless Networks solution. "ADEC's data centre now features the Cisco Nexus 7000, Cisco Unified Computing System, and Cisco IronPort security.  The network infrastructure in each school includes a WAN router, core and access switches, wireless LAN, and internet connectivity.  Comprehensive connectivity enables staff at ADEC's data centre to centrally manage information systems for all schools," he adds.
Most importantly, the platform is designed to enable scalability to enable the inclusion of future applications and capabilities to be added over the next three to five years with minimal adjustments.
In addition to the deployment of the Cisco solution ADEC has also recently invested in a number of other large technology roll-outs, which Younes describes as being instrumental to the council's foundation and future growth.
"Over the last 18 months, we have deployed an E-business suite encompassing applications associated with HR, procurement and finance. We have also deployed an HR self service portal for about 15000 employees in addition to an enterprise wide identity management system. The council has also invested in a student information system that covers all the public schools in Abu Dhabi and a library management system. Some of the other projects include an enterprise SMS gateway, a GIS system in addition to basic services like active directory and exchange organisation that include almost 20000 mailboxes," Younes says.
"The identity management system is perhaps the project we are most proud of. Not only does the system enable automation of addition, deletion and edition of employee records across all applications almost immediately after an employee's credentials are entered into the HR system, it has also enabled us to create uniform digital identities for every employee or what is called a 'single sign-on', which we will continue to roll out across all our applications for ease of management and enhanced integrity of employee records. The system is integrated with the council's ERP system and Active Directory, in addition to the Exchange portal," says Younes.
Half the story
Naturally, none of these deployments came easy to the team at ADEC. While the organisation faced a fair share of challenges, thorough planning and stringent implementation policies worked in the council's favour.
For one thing, vendor selection was a particularly strenuous task for Younes and his team. "The scope and complexity of the implementations at ADEC are quite mature, not just from the logistics point of view but even from the sheer size of each of these deployments and the integration involved. We do face considerable challenges sourcing vendors who can stand up to the task and deliver. While we try and work with principle vendors directly, we are also toying with the idea of qualifying and importing new skill sets from abroad," he says.
"Oracle is really the platform of choice since ADEC falls under the Abu Dhabi government which has an entity wide agreement with IT giant. However, when it comes to selecting implementation partners we engage in a competitive process that is open to all the players in the market. While pricing and service capabilities are important we pay primary attention to the partners experience in developing and deploying solution across an environment similar to ours," adds Younes.
Other challenges, are not technology related but have more to do with managing change and Younes believes the best way to tackle this daunting task is through a planned and proactive approach.
"We have developed a very stringent system development methodology within ADEC and vendors are obliged to adhere to this methodology and principles therein for any implementation across ADEC. This helps us maintain uniformity and quality across all our processes and applications. Similarly, when it to comes project management, we have developed our own methodology based on international standards and again this is a stringent requirement for all partners working with ADEC that is communicated across the highest levels of office," he says.
"Organisations must ensure they implement large projects gradually and decision makers must ensure the provision of solid support and training programmes. This methodology alone has been able to carry us through the first phase. We have a geographic challenge within ADEC where in we deal with educational institutions dispersed around Al Ain, Abu Dhabi and Al Gharbia serving approximately 150000 students and 15000 employees. So bringing all these people together for training purposes is not a feasible option. This is where we used technology for the most part, creating flash videos and hand outs using graphics and animation to make it interesting. We then distributed these across our portals and made it accessible to all employees. We also trained key people in schools who then trained the trainers and users in addition to provisioning a robust help desk system to attend to user queries and concerns. These elements together have helped us carry out a robust implementation without any questionable challenges," Younes explains.
Just the beginning
Younes and his team of 19 are now focused on taking each of these deployments a step further in the organisation.
For instance, having successfully achieved operational transparency, enhanced data integrity in addition to inter linkage between finance and procurement through the deployment of the E-Business Suite, ADEC is now working towards deploying a business intelligence and advanced procurement and contracts management system to enhance efficiency and productivity across all connected institutions.
To enhance the functionality of the student information system, Younes says that the team is investing in developing additional modules such as a 'parents assistant' that will allow student guardians or parents to log in and experience a 360 view of a student's life, from grades right down to fee payments in addition to a transportation management module to define the most effective and efficient bus routes . The team is also working on provisioning a mobile module to enable anytime, anywhere access to both the student information system and the parents assistant. One of the final modules that ADEC intends to roll out is the online registration for parents so that they no longer have to go to schools to register their children.
Younes says, "We are also looking to roll out the identity management application to the students as we implement an active directory while upgrading to the latest release of the application. In addition, we are working on deploying a CRM application, backlog conversion as part of our ICT strategy for the next five years that is built on actual business needs. For instance, while backlog conversion will address and archive the physical student and employee records that have accumulated over the years, CRM will unify case management within ADEC. The team is also planning on rolling out a correspondence management, performance management, learning management and disaster recovery solution as part of this strategy."
"At ADEC, we believe that no technology can meet your requirements from day one, as users become more sophisticated and more comfortable with using the technology their requirements tend to mature and they become more demanding of these systems, they want to improve and enhance them," says Younes.
Perhaps, this is why, the team and higher management at ADEC are consciously investing their dollars in the latest technologies to better not just the council's ability to provision the needs of the 270 schools that it is responsible for but to ultimately create a learning environment that enhances student performance.