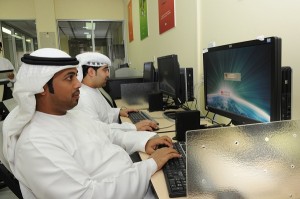 Over 200 students, enrolled on the recently coined Computer Information Sciences programme at the Higher Colleges of Technology, Abu Dhabi campus, had been suffering serious communication issues between peers and tutors. Huawei stepped up to take the college to new virtual heights.
With over 17 campuses spread out across the UAE, HCT is an education focal point for the country, supplying top quality education for over 18,000 students across the Emirates. Two-hundred of those students reside on the IT programming side and it was a simple lack of communication and collaboration that prompted the faculty to implement a solution that would set a benchmark for the rest of the institution.
The colleges were stuck using an outdated file and folder sharing option via email, which prevented the students from accessing work outside of the network. Moreover, the college encouraged the students to purchase a laptop computer at the beginning of their studies, causing many to be outdated and slow by the time they'd reached the most critical stage of their education.
Time for change
With this in mind, the colleges decided that the way forward was to introduce a smart-device BYOD policy, which would deliver a more efficient and faster service for both students and staff. Add this to a new resource pool accessible via the Web and the problem was sorted – virtual desktops. The college was convinced that virtualising the desktops and creating an accessible pool of resources, which students and tutors alike could tap into through any OS and from any device, meant that carrying laptops around was no longer necessary, as well as making all of the updated software applications the school was using far more accessible for those who didn't have a device that could support it.
"One of the challenges we face today is that while students are given laptops at the start of the course, by the end of their third year, their laptops often become obsolete. The processing power of these laptops is also much slower due to having to install and upgrade new software on them frequently to support the latest applications they need to work with," says Mohammed Amin, Professor, HCT.
"However, with the virtual desktop, the shelf life of laptops remains longer and students will no longer need to replace their laptops as quickly, since all software updates will automatically be done at a centralised location without every individual user having to update their own laptops. We look forward to moving to a new era where students can do their exams and tests using their own mobile device."
Seamless implementation
The institution turned to Huawei for this solution, and the firm began implementing its VDI during the early stages of 2012. Huawei offered HCT a trial rack of hardware which sealed the deal and when the college was ready to fully implement, the Chinese company got straight down to business delivering virtualisation, high-end servers, storage networks and more into one cohesive package.
Besides Huawei, no other external body was involved in the implementation. HCT wanted to ensure that its students and teaching staff were all well educated on the technology in order to ensure minimal issues going forward. The men's campus in Abu Dhabi is in fact the first site to implement the technology and has since been used as a testing ground. HCT hopes to implement this technology on its other campuses following more successful runs in Abu Dhabi.
"It's been running nicely but we've only tested it with a maximum of 15 students so far and for only a short space of time. The next step is to test it with a larger volume of students for a much longer time to make sure that the technology can handle the demand which we will ask of it," says Amin.
"It was important to know that it was a scalable technology, as we've been looking to expand it across our network. It will at some point be able to run 1,000 virtual desktops, so all of our students will be able to simultaneously access the resources from any device they choose."
Doubling up on security
Of course, switching from physical servers to a virtual environment opens up some security challenges which need addressing by the parties. HCT claims that itself and Huawei both had a hand in doubling the security of the network. HCT has an internally closed system with a standard access-by-password function, meaning that students can only work within the confines of the institution.
Huawei also inserted its own security system into the box to add the inner layer of protection, and with that, Amin believes the system is more than secure.
"I think this will bring students closer to us," says Amin.
"They can carry on with their work even if they're not in classes, and they can continue to study to their own schedules. The service is totally application-dependent, so it only requires basic PC tools to access it – it's going to change the way we work entirely.
"The virtual desktop allows for greater collaboration between students and teachers, and together, it will help to increase the teaching quality and overall learning experience. It can also create an online class community, like a virtual social network where a teacher, for example, will ask his class to design or publish an application. Each application can then be checked, marked, and then erased from the virtual desktop ready for the next class of students to repeat the same exercise."
The technology has been viewed as a kind of blessing by Amin and his students. The implementation has offered major cost saving, reduced energy consumption and double the security. Not to mention, the deployment was done so efficiently by Huawei that it caused minimal disruption to staff and students during implementation.
Soon enough, Amin believes that the technology would have spread into the other Emirates and Abu Dhabi will be recognised as the starting point for what is sure to be a defining moment for the impressive programme.