After moving to Dubai in 2013, NSN Murthy is thriving in his new role. Armed with a passion for compliance and watertight IT security, AVIVO Group's IT head is now relishing the opportunity to build a formidable tech team.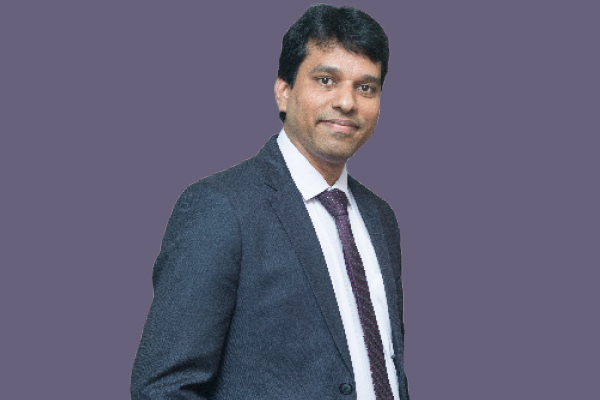 At a glance, NSN Murthy seems to pine for the IT of old. "In some ways, technology is almost too much now," he says. "There are so many messaging, video and audio services, that if you don't answer your phone, someone immediately asks 'where are you?'" Look a little deeper, however, and it's clear that this longing is driven by an admiration for the services that are now on offer. "I never dreamt of the growth that we've seen in technology. When I started my career, a mobile device was a luxury, and you had to pay for incoming calls."
Born and raised in Andhra Pradesh, India, Murthy graduated with a BSc in computer science in 1992 and launched his career with coconut oil producers Regent Agro Products, as a systems supervisor. Murthy gained a solid grounding at the "automated" plant, spending three years at the firm before joining the Andhra Pradesh State Road Transport Corporation in April 1996, where he was placed in charge of corporate IT training.
His stint at the organisation was short-lived, however, and after six months, the travel-intensive job took its toll. "APSRTC was a semi-governmental organisation, and there was a lot of work that involved journeying across regions, which became too much after a while," he says. In October, Murthy joined the Bureau of Data Processing and Systems Limited for a network and systems management role, where he remained until April 1998.
His next venture would see him move into the higher education space, joining Jawaharlal Nehru Technological University as a systems administrator. "Working in education IT was comparatively easy back then," he says. "The faculty only ran between certain hours, so we only received queries from 9-5. Transport was a much more demanding industry." However, Murthy does acknowledge that times have changed. "It's very different now, where students demand IT services 24/7."
Hyderabad came calling, and in October 2000, Murthy took his first venture into the healthcare industry, joining Apollo Health Street as IT manager. In charge of a team of 18, Murthy "built the IT from scratch" at the firm, as well as introducing 60 servers, core switches and firewalls for the healthcare IT and business process outsourcing firm.
After four years of diligent work, Murthy was rewarded with a promotion to the role of company chief information security officer. The position brought a series of new challenges to Murthy's professional life, not least meeting the demands of international customers. "Apollo had a number of healthcare clients in the US, and information security – amongst a range of other important standards – was mandatory for them," he says. With patient data taking on critical importance in terms of privacy, Murthy says he felt he was working in a "totally different world altogether".
He took over the firm's compliance activity, and in a seven-month period, implemented ISO9001 AND ISO27001 standards, as well as HIPAA controls. The swift pace with which Murthy oversaw the standards' installation prompted Apollo to make him a compliance officer for the company's Indian operations, which meant more US-Indian work. "In 2008, we had 19 offices across India and the US, and there was a vast amount of US compliance interaction for Group requirements."
In line with the Global Recession that struck in 2008, Murthy opted to go solo in August, working as a freelance compliance consultant. He enjoyed great success in the new role, and sufficiently impressed to be offered an IT and compliance consultancy role at Fernandez Hospitals. The company specialised in female and newborn care, with four hospital facilities in Hyderabad. "We worked on streamlining our networks, connecting all four hospitals together," he says.
A passionate believer in education, Murthy obtained his MBA in information systems from Manipal University in 2010. "I absolutely love CPD," he says. "I want to enhance my skills continuously, and with the pace that technology is moving it's imperative that I do so."
In parallel with his work at Fernandez, Murthy also became lead auditor, audit program manager and an executive committee member at North American quality assurance firm Perry Johnson Registrars in June 2011, positions which he holds to this day. "Perry Johnson is my retirement plan," he says. "I want to continue working with them, and continue my passion for compliance. Murthy is responsible for third party audits at the organisation, and works around ISO9001, ISO27001 and ISO27006 standards.
After spending his whole career in India, Dubai finally beckoned for Murthy, joining Healthcare MENA as IT head for the Group in 2013. As could be expected, the first things that struck him about Dubai life were the relative lack of congestion and abundance of service in the city. "India obviously has a vast amount of resources, which made Dubai seem small by comparison," he says. "I quickly realised the lifestyle here was great, and that everything is available to you."
Upon joining, he was tasked with a number of IT consolidation projects. "When I arrived, there was no centralisation in our IT," he says. Murthy set about establishing a hospital information system – the implementation of which continues – and an enterprise-wide ERP system. He has also developed a mobile application for AVIVO's laboratories in Kuwait, allowing patients to access their medical reports with no hassle.
AVIVO Group now has 32 centres – including hospitals, clinics, primary care clinics and pharmacies and diagnostics facilities – across the UAE and Kuwait, and has plans to increase those numbers to around 50 in the coming years. The development plans have brought new challenges for Murthy. "We have to study how to migrate into a central environment for software collaboration," he says. "Then the struggle will start."
With AVIVO Group planning to be listed on the London Stock Exchange in the coming months, Murthy has also been forced to ensure that the company's front and back end systems and financials all make solid progress. He has started work on establishing a contact centre, which will be integrated with the HIS.
Reporting to AVIVO Group's CEO and COO, Murthy engages in monthly meetings with the board, and his role is now the go-between for business and IT, especially following the company's decision to rebrand from Healthcare MENA to AVIVO in October.
He describes his style of management as centring around being a "people person", and not in a self-satisfying sense. "If a member of my team comes to me for help, I always do my best to support them," he says. "I never get angry and always do my best to listen and be patient." Murthy is relishing his management role within the company, where he now has the chance to ensure technology runs his way. "I now have the chance to build a team, which is fantastic," he says.