Whether hotel patrons or business partners, Samir Abi Frem has always respected those who frequent the premises covered by his tech expertise. Rotana Hotel Management Corporation's corporate vice president of IT has enjoyed a sharp trajectory of success in his career, and has played a key role in the multiplication of the company's hotel portfolio.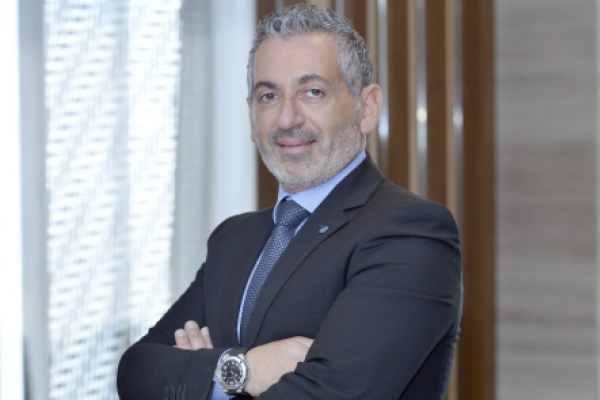 I've been very lucky to work with talented people." Samir Abi Frem never forgets those who have helped him develop into the executive he is today. "I also feel I have often got the right job at the right time, which goes a long way in delivering success."
Frem's interest in technology was stoked during his higher education studies, which he undertook at Lebanese American University. Initially a civil engineering undergraduate, he began a computer science course in his free time, and shifted his major to the field. "In Lebanon, everyone is under pressure to study at university in order to become an engineer, doctor or lawyer," he says, "but I developed a real interest in software development and coding, which I was suited to. I think I'm a logical person, and coding is all about logic. I felt very comfortable with it."
Graduating in 1994, Frem started his career at Riviera Hotel in Beirut, while he was on the hunt for a job in IT. Like Frem, the hotel's owner was a believer in the power of technology, and backed him in leading Riviera to be "one of the first" hotels in Lebanon to successfully install Fidelio, as well as backing other initiatives.
After spending two years at the hotel, Frem was offered a role as IT supervisor at Le Vendôme Intercontinental, also in the Lebanese capital. The property was the city's first one run by Intercontinental, and had been closed during the Civil War, which ended in 1990. Frem relished the opportunity, and within two years, was named IT manager. He fondly recalls the ways in which the role bettered his career. "The hotel general manager, Francois Chopinet, was a great mentor to me," he says. "He helped me to develop my management skills, as well as encouraging me to be innovative and further my ideas. I was initially from a computer science background, but he believed in my overall capabilities."
With Frem's career already gathering momentum in its early stages, he decided to begin his first stint working abroad, joining the Intercontinental Riyadh as IT manager. "Working in Saudi Arabia was a fantastic experience at that stage of my career," he says. "I'd only intended to stay there for the year of my contract, and I lived in a paid-for hotel for the duration. I made sure I made most of the opportunity work-wise. It taught me to be patient, and how to adapt to a new environment."
Having completed his stint in the Kingdom, Frem's positive trajectory continued, as he was offered the role of regional IT manager for the Intercontinental Lebanon. Frem was responsible for the technology across five properties, and one of his first assignments was the opening of the Phoenicia Intercontinental in Beirut. "This, in particular, was great industry exposure to delivering five-star service for guests," Frem says. "It was a great chance to work with new technology, as well as furthering my management skills."
During his tenure, Frem enrolled onto an executive MBA course for hotel management, which he says was a "big step" in sharpening his industry knowledge. "I always try to build my technical and core hospitality knowledge," he says.
Frem remained in the role until 2003, by which time his ability to effectively oversee the IT of numerous properties had caught the eye. Rotana Hotel Management Corporation had been sufficiently impressed by Frem's sharp rise up the career ladder, and offered him a role in their Abu Dhabi head office. With tourism in the United Arab Emirates booming, Frem was tasked with fortifying some of the important pillars of Rotana's growth. "The company had 17 hotels in its portfolio when I joined," he says. "It was a hugely exciting time to be arriving, with lots of work needed on IT infrastructure and standards, as well as a strategy to help the company cope with the huge growth it was experiencing."
Frem speaks very highly of those who surrounded him when he joined. "Working with the likes of Selim El Zyr – who was CEO at the time, and is the current vice chairman of the comapny – as well as the corporate team, was such a great experience and one that really pushed me to work to the best of my ability," he says. "Selim inspired me through the way he respected people, and helped give them the trust and confidence to do their best." By 2006, Frem's work in guiding Rotana's technology through their high growth phase prompted the management to promote him to the role of IT director.
Once Rotana's IT infrastructure was of sufficient quality, Frem set about centralising the company's IT. "This was perceived as a risky move at the time," he says. "Our property management system application was critical for us, and ran the hotel. Having this outside of the property was a big change, and there were concerns that it wouldn't be easy to control connectivity from the hotel to the data centre. It took some work to convince people of the need to change their mindset, but with more and more applications coming into the organisation, this was a necessity."
Away from office hours, Frem also found life in Abu Dhabi very easy to adjust to. "The UAE is a home from home," he says. "I love the facilities in this country, and the way things are structured. It's full of good opportunities, and is a hub for events and business. The place also allows you to have quality time with family and friends." From day one, Frem has also been enamoured with the multicultural aspect of life in the UAE. "It's a very cosmopolitan place, and is a fantastic hub for learning about other countries and cultures," he says.
With over 100 hotels now in its portfolio, Rotana has grown a great deal since Frem's arrival, and he draws immense satisfaction from the part he has played in this journey. "I'm very proud that the company has made its mark," he says. "The brand has become very well-known and successful in the time I've been here. I'm proud to be part of the leadership team, and to work with the current CEO, Omer Kaddouri. The IT setup that we have created now puts us on the same technology level as any international hotel chain."
Frem's passion for the hospitality industry is reflected through his position on the board of governors for Hotel Technology Next Generation, a body that organises a range of international conferences for IT professionals in the sector. He also makes frequent visits to his home country, which he continues to adore for many reasons. "I absolutely love Lebanon and enjoy every day I get to spend there," he says. "I go back every month or so, and am in awe of the lifestyle there – family, nature, sports, nightlife; you name it."
As well as valuing the support of those close to him, Frem believes that, above all else, probity is paramount. "It's important to be honest with yourself, and take equal responsibility for your successes and failures," he says. "Both are important in achieving progress."