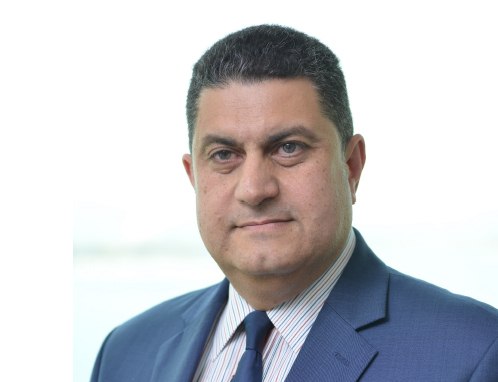 George Yacoub, CIO, SEHA, has spent more time than he would have liked commuting – to the point that an airport became his temporary office. Now that he has found a home in Abu Dhabi, he reflects on his many successes, his love of helping people, and what it takes to be one of the region's top CIOs.
George Yacoub, Group Chief Information Officer at SEHA in Abu Dhabi, has always been prone to tinkering. When he was young, much to the dismay of his mother, she would often find him on the floor of the store, having expertly taken apart a toy. "I wanted to see how things worked," Yacoub recalls, amused. When he was older, his habit graduated into pulling extra landlines through his house. He was always looking to optimise.
His need to investigate the inner-workings of things came into play when he decided he wanted to become a mechanical engineer. Though he excelled in his courses – maths in particular – Yacoub admits that his passion was on the court. "I loved basketball," he recalls. "I played on the national team for three years. I knew I wasn't necessarily going to make a career of it, but I thought I could use it to gain a university scholarship." However, his plans were set askew when a leg injury put him on the bench. "It turned out to be a good thing," says Yacoub. "With all the time it took to recover, I actually focused on my studies." While laid up, he found a passion for calculus and data structure courses.
In 1977, his hoop dreams became a thing of the past, he decided to take on a course in business management from the Higher Institute for Management Studies. To augment his studies, he also took on a minor in accounting.
In 1984, with some compute skills under his belt, he moved to HSBC. "My father was a banker, and he helped me find the job," admits Yacoub. Though he began in the archive department, it became quickly apparent that his computer science knowledge would be invaluable to the future of the branch. "I lead data centre night operations," recalled Yacoub of his early days. "In the end I established the bank's first personal computing and client-server computing group, computer/server-based network infrastructure and developed the first operational and support policies," he says. Essentially, he says, he was the original "desktop-support guy." "Back in those days, if you wanted to do something in duplicate, you had to print it on two-ply paper, and if you made a mistake and actually needed four copies, you would have to do the whole processes again. It was a nightmare."
While working at the bank, Yacoub decided to take on a Master's degree in Computer Science at American University. "Throughout 1985, I would take classes during the day, and then work at the bank in the evenings. I barely got any sleep."
In 1989, with his Masters course completed, Yacoub was ready for a change. "I had relatives living in the US, and I wanted to move there to see what I could do," he recalls. He stayed with his uncle in New Jersey, who had lived there for a number of years. "At that time, I didn't have a plan for a job. I really just took anything. I ended up working for Alpo, the dog food company for a few weeks to get by," he recalls.
It wasn't long, however, before he landed a job at the Greif Group of Companies, in Allentown, Pennsylvania, as a server systems manager. There, he continued his career of introducing personal computing to the business world. "At Greif I helped introduce personal computing which resulted in the reduction reliance on expensive mainframe operations," says Yacoub.
After a few years, Yacoub moved to Shared Medical Systems – SMS, a worldwide leader in outsourcing and application services for the healthcare industry with international operations supporting a global customer base. "The thing that I instantly enjoyed about SMS," says Yacoub, "was the realisation that what I was doing was directly helping people." His efforts as the Director of Technology Services and Integration may have been machine focused, but Yacoub never lost sight of the good he was doing for the staff and, ultimately, the patients.
At this point, however, Yacoub had started a family, and his commute was becoming a burden. "I was on the phone with my wife, who was doing laundry," he recalls. "My daughter, who was young at the time said to me, "Daddy, I miss you – I'm wearing your shirt because it smells like you." It broke my heart." The leadership at SMS encouraged him to move closer to the office, and he and his wife set to look for a house closer to the office. "Just as we were about to put a down payment on the house, the company had a change of plans," said Yacoub. The change was drastic – they wanted Yacoub to move to London.
Though they looked for property in London, they never purchased anything. "We just kept saying we would buy on the next trip," recalls Yacoub. "What that turned into was a longer commute than ever. I would spend three weeks in the UK and then return to Allentown." He spent so much time commuting, he recalls, that the restaurants at Heathrow airport became his second office.
During that time, SMS entered into a deal with Albany Medical Centre. His trips to London were over, but he still commuted – this time a weekly jump to New York. After a few years going back and forth, Yacoub still couldn't decide where to settle. His family was still in Allentown and his project in Albany was coming to an end.
He continued to specialise in healthcare IT, moving from SMS, to Thomas Jefferson University in Philadelphia and eventually landing Karmanos Cancer Institute in Detroit. Though he had every intention of moving his family to Detroit, once again, Yacoub jetted back and forth from Allentown. Again, he and his wife looked at houses in Detroit, determined to settle down. However, as it would have it, as they looked, the economy in Detroit was crumbling around them.
It was at that point, in February 2010, that the UAE came calling. "No really," says Yacoub. "The CEO of Corniche Hospital in Abu Dhabi called me every Sunday for six weeks. But I was reluctant to leave the US." Finally, Yacoub agreed. Corniche hospital, owned by SEHA, took Yacoub on as CIO. Unwilling to make such a commute, his family moved to Abu Dhabi with him. "My wife had actually spent her senior year of high school in Abu Dhabi, and she had loved it, so it was an easy sell," says Yacoub.
Yacoub found a home in SEHA, and moved just across the street to the SEHA headquarters as Corporate IT Advisor in January 2013 and then, more recently in November 2013, took on the role of Acting CIO at SEHA. His successes with SEHA have been immediate and apparent. "We have brought all our 12 hospitals up to worldwide standards of excellence," says Yacoub. "I've told my staff that we owe it to our patients to be the best we can possibly be, and that is what we are striving for."
As for other professionals that strive to take on the role of CIO – "For dedicated professionals, I recommend it. It can be a lot of sacrifice, but it can also be very rewarding." As for now, Yacoub is happy to have a home base in Abu Dhabi. "My daughter is in college now in the US, but she comes back every summer." Yacoub never gave up his love of tinkering. "Right now I'm trying to centralise all of my home's media on one central storage area. We have so much stuff, I think it would be better if it were all in one place."