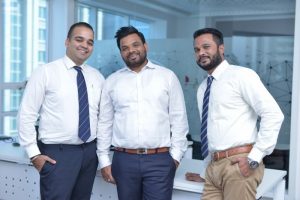 Learn about Commnet Systems' business and its journey to being a solutions-focused player.
Established in 2009, Commnet Systems is a cabling consulting and systems integration firm that strives to deliver high value for customers across verticals such as hospitality, manufacturing and retail sectors.
Karthikeyan Narayansamy, the firm's founder and chief executive officer, says, this is achieved by combining the right people, processes, technologies and programme management solutions.
"Our methods include applying domain expertise in specific industry segments, utilising a highly-skilled workforce, leveraging a proven global delivery model, implementing structured and scalable quality processes and methodologies while simultaneously staying cost-effective"
Having grown significantly year-on-year since its inception, the company has built its credibility as an IT consulting firm in the regional market. Headquartered out of Dubai, the company has expanded to Oman, Qatar, India as well as Singapore and boasts a large workforce.
Narayansamy adds, "Initially, we were only doing subcontracting jobs and small enhancements in the cabling gamut of services. We got our first big break when we won a project to implement a company's entire end-to-end cabling from supply of material to installation."
According to the founder, the factor behind the company's success has been solely its commitment to customers.
"In the services business, there are no specific working hours as we get calls for enhancements and service request 24/7. We are committed to our customers, which has helped us grow," he says. "We have instances where our technicians are at the site early hours of the day to complete the work."
He adds that the other growth drivers attributing to the firm's success includes customer service, human resources, diversification into newer markets and vertical-specific expertise.
Over the course of time, the firm ventured into systems integration business and today has the capabilities to implement and design data centres, cabling, raised floors, UPS, IT infrastructure services and IT hardware sales.
Nikhil Nair, chief sales and marketing officer, Commnet, says, "As part of our integration offering we have partnered with Huawei as our strategic vendor for services and solutions to cater to the market. We have also signed up with couple of Internet of Things (IoT) sensor manufactures to cater to our customers."
According to Gopal Krishnan, the firm's chief projects officer, in today's market, most of its competition do not have technical resources on their payroll and are always on a reactive mode.
He says, "The biggest advantage with us is that all our resources are on our employment and are locally available, split across Dubai and Abu Dhabi."
According to Karthikeyan, the biggest challenge in the market is the lack of understanding of IoT and respective fillers, which are required to meet customer needs.
"However," he says, "there are companies dabbling with this concept, and in the next few years we should see some interesting products and services being launched in this region."
One of the key issues that systems integrators face today are the risks in cyber space and relevant security areas.
"This needs to be one of the primary focus area for the players going forward. If there are continued issues of breaches, it could be a bottleneck to grow," Karthikeyan adds.
Over the course of this year, we will see the firm redefining its business model from service providing to a solutions-based one.
Nair says, " We will be focusing on solutions selling with emphasis on retail, banking and hospitality verticals. We are also expanding the sales team across GCC and India, with plans for Singapore as well, once we are stabilised in these regions."